Killeigh Parish in the Diocese of Kildare & Leighlin,

- a parish reaching back through history to the coming of Christianity to Ireland.

PARISH PRIEST:-

Fr. John Stapleton,
Parochial House,
Killeigh,
Tullamore,
Co. Offaly
Ph/Fax:- 057 9344161

ASSISTANT PRIEST:-

Msgr. Tom Coonan,
Geashill,
Tullamore,
Co. Offaly
Ph/Fax:- 057 9343517



PARISH OFFICE:-

Killeigh Parish Office,
Parochial House,
Killeigh,
Tullamore, Co. Offaly
Email: office@killeigh.com
Ph / Fax:- 057 9344161

Secretary available:-
Tue, Wed, Thurs & Fri
10.30am to 1.00pm
============================================

Booking has now Closed for Final Mass in Phoenix Park!
Over 500,000 tickets have been booked for the Final Mass of WMOF2018, which will be celebrated by Pope Francis. All tickets have now been reserved and booking has closed for this event. The Mass will take place at 3pm in the Phoenix Park, Dublin on Sunday 26 August.
Requests for tickets for WMOF2018 have been overwhelming and we are delighted to announce that each of the events is now fully booked.
Within a week of tickets being released to the public, 400,000 tickets for the Closing Mass in Dublin's Phoenix Park were booked, all 45,000 tickets for Knock Shrine were booked within the first 4 hours and the Pastoral Congress in the RDS is now also fully booked, with a record-breaking 37,000 registrations.
We are delighted that so much interest has been expressed and, with over 10,000 overseas bookings, we look forward to welcoming many pilgrims and families from all over the world. WMOF2018 is a record-breaking Word Meeting of Families with the highest number of people registered to the Pastoral Congress, the highest number of international pilgrims attending and the highest amount of children and young people attending! Thank you to all of you!
This month, we have news and updates on the programme for the Pastoral Congress and the Host a Family project, information on the WMOF2018 Pilgrim Walk, an outline of our sustainability theme, 'Our Common Home', an introduction to our 'Humans of World Meeting of Families 2018' Facebook page, resources to encourage preparation in the home for WMOF2018, as well as links to our latest blogs.
With only a few short weeks to go, we are all looking forward with great anticipation to August and a joyful exploration and celebration of love and family life today.
WEBCAMS:- Live broadcast of all ceremonies
CLICK ON CHURCH IMAGE

==================================================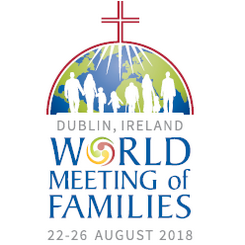 ==================================================
Useful contacts for Information on Marian Shrines, and others:-
http://www.knock-shrine.ie/
History; Pilgrims Guide; Facilities; Accommodation; News; Shop; etc
http://en.lourdes-france.org/tv-lourdes/
See Live TV from the shrine; Deepen [history, Messages, Cures, etc]; Youth
http://sacredsites.com/europe/portugal/fatima.html
Sacred Sites; Places of Peace and Power throughout the world


Click on


for links to over 600 videos, .... news, stories and interviews.

SLIDE SHOWS:-
Visit your ancestors grave in
KILLEIGH PARISH has five villages:- Killurin, Geashill, Ballinagar, Cloneygowan, & Killeigh.

The name KILLEIGH is thus explained:- Cill Achaidh, Church of the Field;
Earlier:- Acha Droma Fada, the field of the long ridge

Killeigh Parish lies in the shadow of the Sliabh Bloom Mountains. Geographically it is the biggest parish in the diocese of Kildare & Leighlin, and the second biggest in the country.

This parish can trace its history back to the coming of Christianity to Ireland.