Clodiagh Gaels
Sports Clubs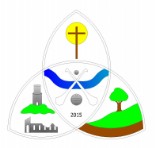 Clodiagh Gaels
Champions 2018

Clodiagh Gaels Club Notes 2nd/June/2020
Hooves 4 Hospice
Lions Clubs in the midlands wish to join forces with the farming community in a fundraising project named "Hooves 4 Hospice", that has the potential to raise a sizeable sum of money for the much needed Midland Hospice Building Fund.
We are working in conjunction with Tullamore Lions Club in the search for farmers willing to donate and raise a calf which will later be sold at a dedicated Hospice mart. Tullamore Lions Club will sell the animals after 12-24 months. All proceeds from the sale of animals will go to the Midland Hospice Building Fund.
For more information contact:
Pitch and Walking Track Closure
Please note in accordance with Government, HSE & GAA guidelines to help deal with the COVID-19 Virus, our pitch in Killeigh and Killurin are closed as well as the walking track in Killeigh are closed to everyone.
Apologies for any inconvenience caused.
Find The Joker
"Find The Joker" is back and the Gaels are now on clubforce!
With a whopping €900 jackpot our "Find The Joker" fundraiser is back after we beat COVID19! With a whole new revamped structure we are having a weekly draw every Sunday evening at approximately 10pm. Unfortunately due to unforeseen circumstances we couldn't hold the draw on Sunday gone by but this coming Sunday we will be ready to go!
We are offering you the chance to enter the draw for 5 weeks for only €10 & €15.
- 1 weekly entry for 5 weeks for as little as €10
- 2 weekly entries for 5 weeks for as little as €15
At the end of the 5th draw we will be having a special draw and whoever is picked out will win the Offaly Gaa Club World Cup winning jersey which is our new white Glenisk sponsored jersey for those of ye that didn't know. What a prize that would be!
You can enter through the Clubforce app. We encourage you to create an account and download the app to stay up to date with latest Gaels news. The clubforce app is available on the google play store for android users and the Apple App Store for iPhone users.
Offaly Gaa Variety Show
The very best of luck to the Langton brothers Liam and Conor as they are performing as a duet in the Offaly variety show. Best of luck to Sean Beatty who is also performing as part of the U20 hurlers act on the night. The variety show is available online from the Offaly social media channels on Saturday the 6th of June at 7:30pm.
Club Shop
We have a club shop on the O'Neills sports website where you can purchase all the latest club merchandise. To find the clothing just type "Clodiagh Gaels" into the search bar on the O'Neills website and all the club merchandise will be available to purchase.
Notes for Inclusion
Anybody wishing to include items in the weekly Clodiagh Gaels GAA notes can do so by emailing gaelsclodiagh@yahoo.ie or texting 0877684671 before 7pm on Sunday evenings. Please follow Clodiagh Gaels on Facebook and Twitter for all the latest club news.
Election of Officers

Vice Chairman - Paul O'Rourke
Secretary- Willie Grennan
Assistant Secretary - TBC
Assistant Treasurer - Peter Hinch
Thank you to outgoing secretary Mary Brady and Treasurer Martina Gorman who both worked tirelessly for the time that they were in their positions.
THE CELTIC TRINITY IS AN ANCIENT CELTIC SYMBOL OF UNITY AND STRENGTH TOGETHER
THE THREE POINTS OF THE SYMBOL REPRESENTS KILLEIGH, KILLURIN AND CLODIAGH GAELS
THE CROSS AT THE TOP TO CELEBRATE THE RICH HISTORY OF RELIGIOUS FOLLOWING THROUGH THE FRANCISCAN ABBEY IN KILLEIGH AND BISHOP WILLIAM QUARTER IN KILLURIN
THE TOWER OF MULLAGH HILL AND CHURCH RUINS TO SYMBOLISE THE KILLURIN HERITAGE
THE OAK TREE IN THE VALLEY TO SYMBOLISE THE KILLEIGH HERITAGE
THE RIVER CLODIAGH IS THE RIVER FROM WHICH THE NEW CLUB DERIVES ITS NAME
THE HURLEYS AND FOOTBALLS SIGNIFY THE CODES IN WHICH WE WILL COMPETE