Parish Newsletter 29th March
2020
Bishop Denis announced on Thurs 12
th
that due to the Covid19 Virus all Confirmations are cancelled until after Easter at least.
We regret the understandable inconvenience caused to all the relevant Families.
Confirmation will be arranged at a later stage.
Thanks for your generous support & kind words of Fr. Tom and Fr. John. Handing in Envelopes to priest's house & also those who contribute on line.
Bank Details (BIC & IBAN numbers) for those who want to bank on line are on your Parish Calendar.
ALL MASSES SAID BEHIND CLOSED DOORS VIA FACEBOOK. SEE LINK ON HOME PAGE.
PALM SUNDAY OF THE LORD'S PASSION:
ALL MASSES BEHIND CLOSED DOORS. But not in the church. We will offer Mass for the promised intentions in the prayer space in each priest's house.
Only the Mass in Killeigh will be transmitted via Facebook.
Michael Whittaker,
Derrybeg, Killeigh
Catherine Shea (O'Brien), New York & Lockclose.
Daniel Gorry
, Walsh Island.
KILLEIGH: SATURDAY 7.30 pm
Claire Geraghty, Newtown.
RAHEEN: SATURDAY 7.30 pm
RAHEEN: SUNDAY 9.00 am
NO MASS THIS WEEK.
BALLINAGAR: SUNDAY 10.30 am
John Lynch, Cappagh Grove. 1st Anniv.
Dina Harte, Ballycue, Geashill.
Betty Murphy, Rathfeston & her sister Bridget Jones, Dublin.
KILLEIGH: SUNDAY 11.30 am
Brendan Mahon, Dublin & Killurin.
1st Anniv.
Bridie & Jimmy Flanagan, Ballycollin.
Masses during the week:
Killeigh:
Mon Tues, Wed, Thurs & Fri: 10.00am
Geashill:
Mon, Tues, Wed, Thurs & Fri:
Private Masses.
Mass is also been shown by RTÉ on the RTÉ News Now channel each morning at 10.30am.
NEXT WEEK-END:
RAHEEN: SUNDAY 9.00 am
NO MASS THIS WEEK.
BALLINAGAR: SUNDAY 10.30 am
Christopher O'Brien, Castlebarnagh, Daingean.
KILLEIGH: SUNDAY 11.30 am
Christy Murray, Ballinvalley & his parents Tim & Mary Ellen Murray.
Now
: 1 Person infects 2.5 people in 5 days and infects 406 people in 30 days.
50% Less Exposure
: 1 Person infects
1.25 people in 5 days and infects 15 people in 30 days.
75% Less Exposure
: 1 Person infects
.625 people in 5 days and infects 2.5 people in 30 days.
No Communion Calls until further notice.
The Irish Catholic at the door:
CANCELLED UNTIL FURTHER NOTICE.
Easter Ceremonies:
On Facebook from parochial house Killeigh at following times and privately in Geashill Oratory:
Holy Thursday
Killeigh 7.30 pm
Good Friday
Killeigh 3.00 pm
Stations of the Cross 7.30.00pm
Easter Vigil
Killeigh 8.00 pm
Good Friday
A day Fast & Abstinence
Fasting means that the amount of food we eat is reduced. Abstinence means that we give up a particular kind of food (USUALLY MEAT) or drink.
Those over 18 and under 60 are bound by the law of fasting, while those over 14 are bound by the law of abstinence.
RTÉ Holy Week
Palm Sunday 5 April
1100-1150 Mass on Palm Sunday.
1735-1745 A Passover like No Other.
0615-0618 A Living Word.
Holy Thursday 9 April
1640-1735 Mass of the Lord's Supper. The Mass will air on radio at the later time of 19.00.)
Good Friday 10 April
1500-1600 Solemn Liturgy for Good Friday.
22.00-2230 The Leap of Faith. (Radio 1).
Holy Saturday 11 April
2200-2300 Easter Vigil Mass. (RTÉ Two & RTÉ Radio 1 Extra/LW252).
Easter Sunday 12 April
1000-1100 Easter Sunday Mass. (RTÉ One & RTÉ Radio 1 Extra).
1100-1120 Urbi et Orbi: Pope Francis' Easter Message. (RTÉ One).
TRÓCAIRE BOXES
PLEASE HOLD ON TO YOUR BOXES UNTIL WE ARE ALOWED OPEN THE CHURCHES AGAIN. THANKS for your ongoing support
Funerals:-
Please note due to the Covid 19 Virus outbreak and in the interest of public safety, funerals will be restricted to the immediate families, with prayers at the grave. When the restrictions are all done, we will arrange to have a Funeral Mass / Memorial Mass to give the family and the community an opportunity to pray for and celebrate the life of their departed friend.
Baptisms /Weddings:
SUSPENDED FOR SAFETY.
We thank you for your understanding and co-operation during these uncertain times.
Please see out website for updates.
Radio Maria Ireland is on television – Saorview, Channel 210,
By downloading our free app for mobile devices – Radio Maria Ireland,
We are broadcasting 24hours each day according to our threefold mission of prayer, catechesis and human formation.
Daily Mass will be aired at 10am each day from our studio chapel, including Sundays for those who would like to tune in.
North Offaly Community Development
Services are still available.
Contact: 057-9362755
A Free Friendly Call Service, Meals on Wheels, Emergency Repairs or Maintenance work, Personal Monitored Alarm, Free Collection & Delivery Service where we can deliver Groceries, Fuel or Prescriptions.
Catholic convert Keith Nester answers the question, "What's so great about being Catholic?"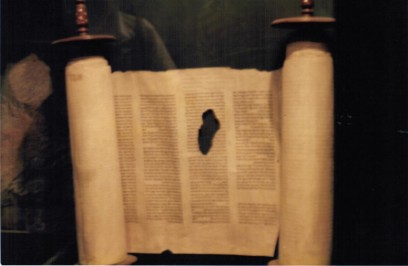 A Copy of the Scroll of the Prophet Isaiah, found in 1948 in a cave near the Dead Sea.
Carbon dated showing it was writen in 70 B.C.
CEMETERY MASSES 2020
Sat 27th June Raheen
Tue 30th June Annagharvey
Sun 5th July Ballinagar
Sat 11th July Killeigh


SAFEGUARDING CHILDREN IN CHURCH RELATED ACTIVITIES
Diocesan Designated Person; (D.L.P.) –
Mick Daly: 085-8021633 Email:- dlp@kandle.ie
The
DLP
is the person responsible
in our diocese
for receiving all Child Safeguarding concerns
and reporting same to the civil authorities.
Local Safeguarding Representatives: –
Bred
a O'Connor
Concepta Murphy
Aileen McDermott
The
LSR's
role is to
promote awareness
of the diocesan safeguarding children policy and procedures,
and to ensure that church activities are provided in a way that ensures the safety and wellbeing of the children involved.
Diocesan Safeguarding Coordinator
Michelle Hughes
: Email:
safeguarding@kandle.ie
Du
ty Social worker can be contacted 9am-5pm
HSE National information line
:- 1850
24 1850
(callsave)
Outside of these hours in cases of emergency please contact
An Garda Síochána
Portarlington
: 057 8623112
Portarlington
: 057 8623112
~~~~~~~~~~~~~~~~~~~~~~~~~~~~~~~~~
Warning signs of a STROKE:
The following can help you recognise if someone is having a stroke and ACT FAST if you see any of them.
F
–
FACE:
Ask the person to smile-does one side droop?
A – ARMS:
Ask the person to raise both arms and keep them there.
S – SPEECH:
Can the person repeat a sentence? Is their speech slurred?
T – TIME:
If you see any of the above signs –
even just one
– call 999 for an ambulance
/////////////////////////////////////////////////
Suicidal Thoughts?
Share the Load!
….others can help you carry it.
Midlands Living Links
086-1600641
MABS – Money Advice
– Hibernian Hse, 076-107-2710 (free & confidential).
C.I.C. – Citizens Information Centre
Mon-Sat, 10.30am-12.30pm
057 9352204.
Samaritans:
1850 60 90 90
Pieta House 1800 247 247 or 0818 277 438
Samaritans new freephone number 116 123
visit www.3ts.ie/need-help/ for a full list of crisis helplines
We can help! Contact Offaly Domestic Violence Support Service (ODVSS)
on our
Confidential Information Line
057 9351886.
(Open Mon to Fri 10am to 12pm2pm to 4pm)
Have you got a number in your phone after the letters I.C.E.?
In Case of Emergency?

DO IT NOW!
Grow:

World Community Mental Health Movement in Ireland.
You alone can dot it,
but you can't do it alone.
If you are anxious, depressed,
or feeling suicidal,
GROW can support you.
Strictly Confidential.

www.grow.ie


Young Adult Group Monday 7.30pm,
Community Group Thurs 3.00pm
Community Health Centre 057 9351124.
Pontifical University – St Patrick's College, Maynooth.
Higher Diploma in Theological Studies One-year part-time evening course. Lectures are held on: Mon's & Wed's 6.30-9.30pm
Four Saturdays ( 2 Sat every semester) 10am – 4pm. Info etcContact 01-7084772 email:
admissions@spcm.ie
or
maynoothcollee.ie