Parish Newsletter

Cloneygowan Gooseberry Fair




"

Thou shalt not bear false witness

!"






Michael Brady, Fenter.
Phil Sheil, Meelaghans.
Bernadette Walsh née Clinton, late of Ballymacrossan.
KILLEIGH: SATURDAY 7.30 pm
Anthony (Tony) Walsh, Derrygolan.
Months Mind.
Johnny (Jake) Dunne, Derrybeg.
Tommy Dunne, Derrybeg & England.
RAHEEN: SATURDAY 7.30 pm
Robert (Bob) Sheil & his daughter Sadie, Geashill.
Bernadette Starken, Milltownpass.
RAHEEN: SUNDAY 9.00 am
For the People of the Parish.
BALLINAGAR: SUNDAY 10.30 am
John & Kathleen Guinan, Ballina.
KILLEIGH: SUNDAY 11.30 am
Funeral Mass for Michael Brady, Fenter.
Deceased Casey Family, Killeenmore.
KILLEIGH: SUNDAY 2.00 pm
Funeral Mass for Phil Sheil, Meelaghans.
Masses during the Week:
Wed
10.00am
Private Intention.
=======================================================
NEXT WEEK-END:
KILLEIGH: SATURDAY 7.30 pm
RAHEEN: SATURDAY 7.30 pm
Pat (P.J.) Byrne, Cork & Cloneygowan. Months Mind & Burial of Ashes.
Mary Murphy & Deceased Fitzmaurice Family, Shranure.
Deceased Boland Family, Shranure.
Christy Hyland & his Son Padraigh & Deceased Hyland Family, Rathfeston.
RAHEEN: SUNDAY 9.00 am
BALLINAGAR: SUNDAY 10.30 am
KILLEIGH: SUNDAY 11.30 am
==============================================================================================
Ms of Eucharist Sun Sept 1st Team E.
Readers for Next Week-end:
7.30pm Killeigh: Liam Byrne
7.30pm Raheen: Family
9.00am Raheen: Tony Arnold
10.30am Ballinagar: Patricia Conroy
11.30am Killeigh: Attracta Brady
Readings will be posted out to you.
========================================================
No White Envelopes next weekend.
Yellow Envelope instead for the Annual Collection.
Thank you for your support to
Fr. Stapleton & Msgr Coonan.
Membership of Parish Finance Council:
Thanks to the following who were elected to the P.F.C. 4 years ago:-
P.J. McDonald - Killeigh Area.
Michael Campbell - Ballinagar Area.
Concepta Murphy - Raheen Area.
Membership of the P.F.C. is open to all Parishioners. We ask you to think about offering your gifts, experience and time. We will elect 1 from each church area to succeed the above members (who may be re-elected). .
Election / Selection will take place NEXT WEEK-END in
Raheen Sat 31st Aug after 7.30pm Mass and after Mass in
Killeigh & Ballinagar Sun 1st Sept.
A.G.M. and Next meeting of P.F.C. with renewed membership, Tue 10th Sept 7.30-9pm in parochial house.
Feast days this week are:-
Tues: St. Monica Wed: St. Augustine
Thurs: Martyrdom of St John the Baptist
The Irish Catholic at the door: €2
Faith to its fullest at largest Catholic youth event. Pages 18-21
Pain & loss allows us to connect with others. Page 3
Search on for oldest Grandparents. P3
Killeigh Community Centre Development Association A.G.M. Tuesday 10th September 8pm Killeigh School. All Welcome.
Selected as one of the 10 volunteer groups in this years Ploughing Championships in Carlow. Anyone wishing to help out on any of the 3 days please contact Marianne
086 371 4609. Fundraising Raffle €5 tickets currently on sale from any committee member.
Tea/Coffee Mornings in Killeigh:
Will resume in September.
Geashill Whist: Top: Patricia Quinn
Other Winners, Thomas Garry, Marie Geraghty, Eileen Carroll, Bernadette Mahon, Bridie O'Grady, Veronica Kearns, Frances Gleeson & Ava Farrelly.
Club and Community notes available on
www.killeigh.com
If you cannot come up to receive Holy Communion please raise your hand and the Minister will go to you.
All ceremonies, in our churches are broadcast on www.killeigh.com
Cloneygowan Gooseberry Fair
THIS
SUNDAY 25TH
Commencing at 1.30pm with a Fancy Dress parade. There will be:- Ladies Football, Under 10 football, Dog Show, 5 GAA skills games, Baby Show, Cake Auction, Wheel of Fortune, Mouse's Castle, Tea And Scones Tent, plus the usual competitions and side shows. There will also be a threshing display (Old style) and a Vintage Machinery display. Historical talk and slide show.
Twenty First Sun in Ordinary Time:
Will you help gather people to be a part of the reign of God? Pay to be open if God calls you to serve as priest, deacon, brother or sisters. If you think God is calling you to be a priest call:-
Fr. Ruairí Ó Domhnaill
045 897470 or email
vocations@kandle.ie
Mass for Healing
Tuesday 3rd Sept in St. Paul's Church, Emo, Portlaoise.
Rosary at the Grotto 7.45pm & Holy Mass at 8:00pm
World Meeting of Families began a year ago tomorrow, to acknowledge this Bishop Nulty has put together 10 messages from Pope Francis, these messages are taken from Pope Francis' speaking engagements during his visit. Messages available on

www.kandle.ie
Suaimhneas (Emo) - Workshops
Visit

www.suaimhneas.ie

to view all our courses.

Contact 057 86 26541.
Email:

info@suaimhneas.ie
See poster on church board.
National Grandparents Pilgrimage
In Knock Sunday September 8th. Anointing of the Sick at 2.30pm, Mass at 3pm followed by the Rosary.
Clonaslee Development Association
Monthly Bingo
THIS
Sunday August 25
th
at 3pm in the Community Centre.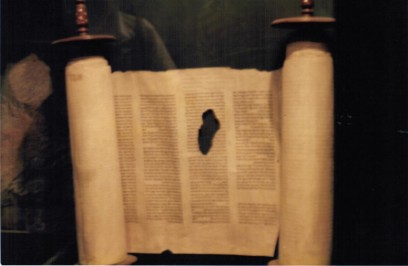 A Copy of the Scroll of the Prophet Isaiah, found in 1948 in a cave near the Dead Sea.
Carbon dated showing it was writen in 70 B.C.


SAFEGUARDING CHILDREN IN CHURCH RELATED ACTIVITIES
Diocesan Designated Person; (D.L.P.) –
Mick Daly: 085-8021633 Email:- dlp@kandle.ie
The
DLP
is the person responsible
in our diocese
for receiving all Child Safeguarding concerns
and reporting same to the civil authorities.
Local Safeguarding Representatives: –
Bred
a O'Connor
Concepta Murphy
Aileen McDermott
The
LSR's
role is to
promote awareness
of the diocesan safeguarding children policy and procedures,
and to ensure that church activities are provided in a way that ensures the safety and wellbeing of the children involved.
Diocesan Safeguarding Coordinator
Michelle Hughes
: Email:
safeguarding@kandle.ie
Du
ty Social worker can be contacted 9am-5pm
HSE National information line
:- 1850
24 1850
(callsave)
Outside of these hours in cases of emergency please contact
An Garda Síochána
Portarlington
: 057 8623112
Portarlington
: 057 8623112
~~~~~~~~~~~~~~~~~~~~~~~~~~~~~~~~~
Warning signs of a STROKE:
The following can help you recognise if someone is having a stroke and ACT FAST if you see any of them.
F
–
FACE:
Ask the person to smile-does one side droop?
A – ARMS:
Ask the person to raise both arms and keep them there.
S – SPEECH:
Can the person repeat a sentence? Is their speech slurred?
T – TIME:
If you see any of the above signs –
even just one
– call 999 for an ambulance
/////////////////////////////////////////////////
Suicidal Thoughts?
Share the Load!
….others can help you carry it.
Midlands Living Links
086-1600641
Console
– 1800 201 890
MABS – Money Advice
– Hibernian Hse, 057 93 23211 / 93 52252 (free & confidential).
C.I.C. – Citizens Information Centre
Mon-Sat, 10.30am-12.30pm
057 9352204.
Samaritans
:
1850 60 90 90
1life, Suicide helpline 247 100
We can help! Contact Offaly Domestic Violence Support Service (ODVSS)
on our
Confidential Information Line
057 9351886.
(Open Mon to Fri 10am to 12pm2pm to 4pm)
Have you got a number in your phone after the letters I.C.E.?
In Case of Emergency?

DO IT NOW!
Grow:

World Community Mental Health Movement in Ireland.
You alone can dot it,
but you can't do it alone.
If you are anxious, depressed,
or feeling suicidal,
GROW can support you.
Strictly Confidential.

www.grow.ie


Young Adult Group Monday 7.30pm,
Community Group Thurs 3.00pm
Community Health Centre 057 9351124.
Pontifical University – St Patrick's College, Maynooth.
Higher Diploma in Theological Studies One-year part-time evening course. Lectures are held on: Mon's & Wed's 6.30-9.30pm
Four Saturdays ( 2 Sat every semester) 10am – 4pm. Info etcContact 01-7084772 email:
admissions@spcm.ie
or
maynoothcollee.ie