Parish Newsletter
13th October 2019
Monday 21st to Wed 23th October.
For more info please visit www.giveblood.ie
Please bring a newsletter to your neighbour.
Betty Guinan, Ballydownan Geashill.
KILLEIGH: SATURDAY 7.30 pm
RAHEEN: SATURDAY 7.30 pm
Ninian Fauliner, Geashill.
Paddy & Bridie Gordon, Cloneyquinn.
RAHEEN: SUNDAY 9.00 am
For the People of the Parish.
BALLINAGAR: SUNDAY 10.30 am
KILLEIGH: SUNDAY 11.30 am
Masses during the Week:
=======================================================
NEXT WEEK-END:
KILLEIGH: SATURDAY 7.30 pm
RAHEEN: SATURDAY 7.30 pm
RAHEEN: SUNDAY 9.00 am
Maureen Gorman, Killeenmore. Months Mind.
BALLINAGAR: SUNDAY 10.30 am
Oliver Plunkett, Christopher Finnegan, Bridget Cooke & Deceased members of their Families.
Kathleen Geraghty, Cappanageeragh.
KILLEIGH: SUNDAY 11.30 am
David Dooley, Acton, London. 1st Anniv.
==============================================================================================
Ms of Eucharist Sun Oct 27th Team C
Readers for Next Week-end:
7.30pm Killeigh: Rachael King
7.30pm Raheen: Eithne O'Bryne
9.00am Raheen: Family
10.30am Ballinagar: Catherine Guinan
11.30am Killeigh: Family
Readings will be posted out to you.
========================================================
Mission Sunday:
Pray persistently and God will respond. Ask God to bless the Church with faith-filled ministers. If you think God is calling you to be a priest call:- Fr. Ruairí Ó Domhnaill
045 897470 or email
vocations@kandle.ie
The Irish Catholic at the door:
€2
Together we are Mission – Extraordinary Month of Mission Special. P 16-31
Life can be so cruel but let's face it with faith and hope. P 40.
Grieving as a spiritual exercise. P 34.
Ceremonies, in our churches are broadcast via webcam, [but not recorded] on www.killeigh.com
TODAY is World Mission Sunday, a day when our entire Church family comes together for a truly incredible celebration of solidarity. Today, every single Church around the world shares what they can, so that the vital work of the Church and our missionaries can continue. From all the missionaries, thank you for digging deeper today. If you'd like to further support World Mission Sunday, you can donate online at www.wmi.ie/donate or give €4 right now, by texting the word 'Mission' to 50300. (Texts cost €4. World Mission Ireland will receive a minimum of €3.60. Service Provider: LikeCharity. Helpline: 076 680 5278. Republic of Ireland

only.)
Praise and Worship Meeting:
Parish Center St. Peter and Paul's Church Portlaoise Thurs 31st Oct 8pm
Rosary, Praise and Worship with Music Ministry. Talk by Spiritual Director
Fr. Ruairi O'Domhnaill. All are welcome. Contact Michael Nerney 086-815 7305 for details
Killeigh N.S. Parents Association Halloween fundraising cake sale Friday 25th of Oct from 9:30 - 2:30 in Killeigh School Hall. Lots of goodies buns, cakes, breads, scones, soups & vegetables etc with raffle on the day.
Your support would be greatly appreciated. Everyone welcome.
Congratulations to Na Fíanna Footballers, to the Team, their Families & to their Managers.
Tea/Coffee Morning Killeigh 23rd Oct:
Free Coffee morning in Grennan's 10.30am-12noon. Thanks to all who join & support us.
Geashill Wednesday Club: Geashill Old School, 10am to noon. This week Health & Fitness. €3. Come for a cuppa. All are welcome. Concepta 057-93-43876 or Gretta 086-363-9009
Geashill Whist Results:-
Top: Seán Coffey
Other Winners:- Brigid O'Brien, Teresa Mulhare, Patricia Quinn, Josie Beacon, Frances Gleeson, Noreen Garry, Margaret Harte & Heather Kelly.
Warning signs of a STROKE:
The following can help you recognise if someone is having a stroke and ACT FAST if you see any of them.
S: Ask the person to SMILE-does one side droop?
R: Ask the person to RAISE both arms and keep them there.
T: TALK. Speak a simple sentence coherently. (e.g. chicken soup)
If the person has a problem with any of the above signs – even just one – call 999 for an ambulance.
New sign of a stroke…..stick out your TONGUE. If the tongue goes to one side or the other it is also a sign of a stroke.
Organ Donation:
In 2018 in Ireland 81 Donors gave life to and saved 234 People.
Irish People are Incredibly Generous.
HAVE DISCUSSED IT WITH YOUR FAMILY? PLEASE DO.
Grabbing the Wheel – Driving your own Life is the theme of the October meeting of Tullamore BPW which will be addressed by Ms Anne Scally, HR Consultant and Ms Geraldine O'Neill, International Author in the Bridge House Hotel Wed Oct 23rd 8.00pm.
Sandy Lane N.S. Parents Council, Portarlington:
Antiques & Collectibles Auction on this Sun Oct 20th at 3pm in the Parochial Hall, The Square, Portarlington. Viewing from 1pm. Entry Fee €5 to include Catalogue, Tea/coffee and refreshments.
Clonaslee Development Association
Monthly Bingo
next
Sunday Oct 27th at 3pm in the Community Centre.
Parishioners needed as Readers for all churches: It would be wonderful if you could offer to read. Call to the sacristy after mass or call the parish office.

Catholic convert Keith Nester answers the question, "What's so great about being Catholic?"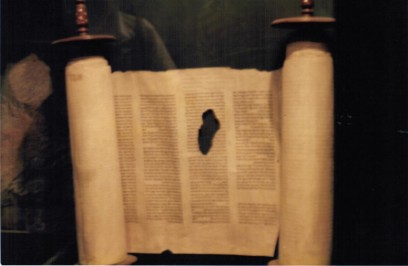 A Copy of the Scroll of the Prophet Isaiah, found in 1948 in a cave near the Dead Sea.
Carbon dated showing it was writen in 70 B.C.
Killeigh Parish Finance Committee


SAFEGUARDING CHILDREN IN CHURCH RELATED ACTIVITIES
Diocesan Designated Person; (D.L.P.) –
Mick Daly: 085-8021633 Email:- dlp@kandle.ie
The
DLP
is the person responsible
in our diocese
for receiving all Child Safeguarding concerns
and reporting same to the civil authorities.
Local Safeguarding Representatives: –
Bred
a O'Connor
Concepta Murphy
Aileen McDermott
The
LSR's
role is to
promote awareness
of the diocesan safeguarding children policy and procedures,
and to ensure that church activities are provided in a way that ensures the safety and wellbeing of the children involved.
Diocesan Safeguarding Coordinator
Michelle Hughes
: Email:
safeguarding@kandle.ie
Du
ty Social worker can be contacted 9am-5pm
HSE National information line
:- 1850
24 1850
(callsave)
Outside of these hours in cases of emergency please contact
An Garda Síochána
Portarlington
: 057 8623112
Portarlington
: 057 8623112
~~~~~~~~~~~~~~~~~~~~~~~~~~~~~~~~~
Warning signs of a STROKE:
The following can help you recognise if someone is having a stroke and ACT FAST if you see any of them.
F
–
FACE:
Ask the person to smile-does one side droop?
A – ARMS:
Ask the person to raise both arms and keep them there.
S – SPEECH:
Can the person repeat a sentence? Is their speech slurred?
T – TIME:
If you see any of the above signs –
even just one
– call 999 for an ambulance
/////////////////////////////////////////////////
Suicidal Thoughts?
Share the Load!
….others can help you carry it.
Midlands Living Links
086-1600641
MABS – Money Advice
– Hibernian Hse, 076-107-2710 (free & confidential).
C.I.C. – Citizens Information Centre
Mon-Sat, 10.30am-12.30pm
057 9352204.
Samaritans
:
1850 60 90 90
Pieta House 1800 247 247 or 0818 277 438
Samaritans new freephone number 116 123
visit www.3ts.ie/need-help/ for a full list of crisis helplines
We can help! Contact Offaly Domestic Violence Support Service (ODVSS)
on our
Confidential Information Line
057 9351886.
(Open Mon to Fri 10am to 12pm2pm to 4pm)
Have you got a number in your phone after the letters I.C.E.?
In Case of Emergency?

DO IT NOW!
Grow:

World Community Mental Health Movement in Ireland.
You alone can dot it,
but you can't do it alone.
If you are anxious, depressed,
or feeling suicidal,
GROW can support you.
Strictly Confidential.

www.grow.ie


Young Adult Group Monday 7.30pm,
Community Group Thurs 3.00pm
Community Health Centre 057 9351124.
Pontifical University – St Patrick's College, Maynooth.
Higher Diploma in Theological Studies One-year part-time evening course. Lectures are held on: Mon's & Wed's 6.30-9.30pm
Four Saturdays ( 2 Sat every semester) 10am – 4pm. Info etcContact 01-7084772 email:
admissions@spcm.ie
or
maynoothcollee.ie