Parish Newsletter

Seventh Sunday in Ordinary Time:

Jesus helps our faith be fruitful when we follow where he leads. Where is Jesus leading you today? If you think God is calling you to be a priest call:- Fr. Ruairí Ó Domhnaill

045 897470 or email

vocations@kandle.ie




Women's World Day of Prayer

written by the Women of Slovenia.

In the Church of Ireland, Killeigh Friday March 1

st

at 7.30pm.
Ursula Lawlor, Ballinvalley
Sarah Dunne, St. Oliver's, Geashill.
Molly Cahill, Collinstown, Westmeath.
Kathleen (Kitty) Bergin, Clareen, Birr.
KILLEIGH: SATURDAY 7.30 pm
Ellen McInerney, Derryadd.
Kathleen Casey, Killurin.
Paddy & Eileen Casey, Killurin.
RAHEEN: SATURDAY 7.30 pm
John Clear, Geashill. Months Mind.
John Joe Dunne, Bogtown &
Eddie Bryan, Fear na Móna.
RAHEEN: SUNDAY 9.00 am
BALLINAGAR: SUNDAY 10.30 am
Joe & Margaret Gallagher, Cappyroe.
KILLEIGH: SUNDAY 11.30 am
Funeral Mass of Ursula Lawlor, Ballinvalley
Margaret Dunne, Killurin. Months Mind.
Pat & Mary Purcell, Derrybeg.
Masses during the Week:
Killeigh:
Fri 10.00am First Friday.
Exposition from 9am & Confessions 9.30am.
Geashill:
Tue 10.00am
Fri 10.00am First Friday.
=======================================================================
NEXT WEEK-END:
KILLEIGH: SATURDAY 7.30 pm
Tim & Mary Ellen Murray, Ballinvalley.
Martin & Mary Hoctor, Ballycollin &
RAHEEN: SATURDAY 7.30 pm
RAHEEN: SUNDAY 9.00 am
BALLINAGAR: SUNDAY 10.30 am
James & Christina Dolan, Ballinagar.
KILLEIGH: SUNDAY 11.30 am
Mick O'Rourke, Killeigh. Months Mind.
Ms of Eucharist Sun Mar 3rd Group D
Readers for Next Week-end:
7.30pm Killeigh: Ciara Murray
7.30pm Raheen: Mariena Corcoran
9.00am Raheen: Theresa Boland
10.30am Ballinagar: Catherine Guinan
11.30am Killeigh: Family.
Readings will be posted out to you.
Communion Calls for March:
Fr John Stapleton:
Wed 13th: Ballinvalley, Gorteen, Killurin
Thurs 14th: Lockclose, Graigue,
Ballycollin, Newtown, Meelaghans
Msgr. Tom Coonan:
Tues:
12th
Raheenduff, Ballymooney,
Wed 13th:
Ballydownan, Ballykeane,
Cloneygowan, Ballymacrossan
Communion Calls for April will be the week of Holy Week
April 15th:
The Irish Catholic at the door:
A journey through pain on the rough road to redemption.
Page 10 & 11.
St Sinchills Camogie Club Registration On the weekend of 2nd & 3rd March in GAA rooms to coincide with mass times.
Under 6/8s: €20. Under 10s – Minor: €40, Student: €45. Adult Playing: €60
Coaches/Managers/Selectors/Admin: €20
Social Membership: €10. Family: €100
RAHEEN GAA CLUB REGISTRATION EVENING
For Players & Non-Players on Fri 8th Mar 8pm - 9:30pm in Geashill Clubhouse. All Players, Non-Playing Members and any new Members wishing to join are requested to come along on the evening and register for the year. Membership Rates are: 1) Players: €30; 2) Students: €20; 3) Non-Players: €20; 4) OAP's: €15; 5) Couples: €30.
RAHEEN GAA CLUB SOCIAL COMMITTEE are looking to setup a Social Committee of local people who will be involved with organising social activities for locals away from the on-field playing activities. If you would be interested in getting involved please contact Liam Boland (087 4181148) or John Hackett (086 6682822) or give your name at the Registration Evening.
Cake/book Sale and Coffee/tea Afternoon Sat 2nd Mar from 12-3pm in Geashill N.S. For more info please call Carolina 086 378 5340.
Killeigh Community Centre Development. Association.
To keep up to date with all visit us on facebook Killeigh Community Centre Development.
*Club and Community notes available on
www.killeigh.com
Geashill Whist: Top: Tom Kearns
Other Winners: Veronica Kearns, Teresa Byrne, Marie Geraghty & Thomas Garry.
GEASHILL WEDNESDAY CLUB:

Geashill Old School 10am-12noon. This Wed St. Patrick's Day Craft. Materials supplied €3. Come any Wed for the cuppa & chat & learn new skills. Men & Women welcome. Follow us on Facebook.
Maria Montessori Preschool & Before/Afterschool Care, Killeigh Village enrolling now for 2019 /2020.
Contact Breda 085 1222654.
St. Catherine's Church of Ireland, Tullamore – Window Appeal AUCTION – Sun 24th March 12noon in R&R Projects, Unit 56, Axis Business Park, Clara Rd, Tullamore. We are looking for any items – second hand or new of good quality and value – to be able to sell on and to help make this auction a success. See notice on church boards for Contact details.
Are you a past member of Offaly Macra? This year marks the 75th anniversary of Offaly Macra. To celebrate we are having a dinner dance on March 9th in the Bridge House Hotel. For information or tickets, please contact Martina on 085 1650746 or Deirdre on 087 9537023
Mountmellick Drama Festival In the Community Arts Centre Fri 8th to Fri 15th Mar 8pm sharp.

Info: Jessie at 087 794 2994, email jessieconroy61@gmail.com
Noreen at 087 412 1205, email norsavage@eircom.net
West Offaly Training: Advanced Excel starting 28th Feb, Introduction to Hairdressing 20th Feb, Makeup Master Class Starting 4th Mar, ECDL starting 18th Feb and Kids after school Coding (Beginners & Advanced) starting 26th Feb

,

Abrasive Wheels and Manual Handling training weekly. We are also running FREE Internet for beginners' course/Various dates. Call 057 91 52003 to book or find out more.
Carlow College, St Patrick's Book Fair
All book buyers and sellers welcome to this public event Wed 27th Feb 10am to 7pm. Contact: 059 91 53200
vpacademic@CarlowCollege.ie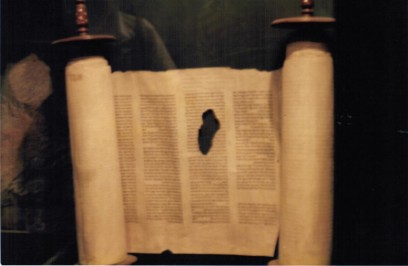 A Copy of the Scroll of the Prophet Isaiah, found in 1948 in a cave near the Dead Sea.
Carbon dated showing it was writen in 70 B.C.
Kildare & Leighlin Diocesan Pilgrimage
to
Lourdes 2019
1st – 6th August. €759.
Single room supplement €155-€180.
SEE NOTICE BOARD
HAVE YOU EVER CONSIDERED BEING A PRIEST?
HAVE YOU EVER CONSIDERED YOUR SON or GRANDSON BEING A PRIEST?
In Fr Sean's own words "If I had to up sum what
is all about, I think the first sentence probably says it best;
"When I reached the lowest ebb of my life, I called out to God and discovered that He was there for me"".


SAFEGUARDING CHILDREN IN CHURCH RELATED ACTIVITIES
Diocesan Designated Person; (D.L.P.) –
Mick Daly: 085-8021633 Email:- dlp@kandle.ie
The
DLP
is the person responsible
in our diocese
for receiving all Child Safeguarding concerns
and reporting same to the civil authorities.
Local Safeguarding Representatives: –
Bred
a O'Connor
Concepta Murphy
Aileen McDermott
Margaret Conroy
The
LSR's
role is to
promote awareness
of the diocesan safeguarding children policy and procedures,
and to ensure that church activities are provided in a way that ensures the safety and wellbeing of the children involved.
Diocesan Safeguarding Coordinator
Michelle Hughes
: Email:
safeguarding@kandle.ie
Du
ty Social worker can be contacted 9am-5pm
HSE National information line
:- 1850
24 1850
(callsave)
Outside of these hours in cases of emergency please contact
An Garda Síochána
Portarlington
: 057 8623112
Portarlington
: 057 8623112
~~~~~~~~~~~~~~~~~~~~~~~~~~~~~~~~~~~~~~~~~~~~~~~~~~~~~~~~~~~~~~~~~~~~~~~~~~~~~~~~~~
Warning signs of a STROKE:
The following can help you recognise if someone is having a stroke and ACT FAST if you see any of them.
F
–
FACE:
Ask the person to smile-does one side droop?
A – ARMS:
Ask the person to raise both arms and keep them there.
S – SPEECH:
Can the person repeat a sentence? Is their speech slurred?
T – TIME:
If you see any of the above signs –
even just one
– call 999 for an ambulance
/////////////////////////////////////////////////////////////////////////////
Suicidal Thoughts?
Share the Load!
….others can help you carry it.
Midlands Living Links
086-1600641
Console
– 1800 201 890
MABS – Money Advice
– Hibernian Hse, 057 93 23211 / 93 52252 (free & confidential).
C.I.C. – Citizens Information Centre
Mon-Sat, 10.30am-12.30pm
057 9352204.
Samaritans
:
1850 60 90 90
1life, Suicide helpline 247 100
We can help! Contact Offaly Domestic Violence Support Service (ODVSS)
on our
Confidential Information Line
057 9351886.
(Open Mon to Fri 10am to 12pm2pm to 4pm)
Have you got a number in your phone after the letters I.C.E.?
In Case of Emergency?

DO IT NOW!
Grow:

World Community Mental Health Movement in Ireland.
You alone can dot it,
but you can't do it alone.
If you are anxious, depressed,
or feeling suicidal,
GROW can support you.
Strictly Confidential.

www.grow.ie


Young Adult Group Monday 7.30pm,
Community Group Thurs 3.00pm
Community Health Centre 057 9351124.
Pontifical University – St Patrick's College, Maynooth.
Higher Diploma in Theological Studies One-year part-time evening course. Lectures are held on: Mon's & Wed's 6.30-9.30pm
Four Saturdays ( 2 Sat every semester) 10am – 4pm. Info etcContact 01-7084772 email:
admissions@spcm.ie
or
maynoothcollee.ie