Parish Newsletter

Easter Sunday:

What stones are being moved away so you can be a minister of the Gospel? Consider inviting someone to be a sister, brother, priest, or deacon. Spread the good news: "Jesus is risen!". If you think God is calling you to be a priest call:- Fr. Ruairí Ó Domhnaill

045 897470 or email

vocations@kandle.ie






KILLEIGH: SATURDAY 9.00 pm
EASTER VIGIL
========================
RAHEEN: SATURDAY 9.00 pm
EASTER VIGIL
RAHEEN: SUNDAY 9.00 am
For the People of the Parish.
BALLINAGAR: SUNDAY 10.30 am
Betty Murphy, Rathfeston & Bridgie her sister who died recently.
Daniel & Margaret Scally & daughter Geraldine, Ballinagar.
Eddie Dolan, Dublin & Cloneygowan.
KILLEIGH: SUNDAY 11.30 am
Masses during the Week:
Killeigh:
Fri 10.00am Private Intention.
Geashill:
=======================================================================
NEXT WEEK-END:
KILLEIGH: SATURDAY 7.30 pm
Michael & Mary Kerrigan & daughter
Helen Connors, Chancery Close, Tullamore.
RAHEEN: SATURDAY 7.30 pm
Willie McNally, Ballycrystal. Months Mind
James & Mary Hynes, Killaderry.
Bridget McHugh, Alderborough.
Richard Gahan, St. Oliver's & his dad John.
James & Annie Daly, Geashill & sons
RAHEEN: SUNDAY 9.00 am
BALLINAGAR: SUNDAY 10.30 am
Noel O'Meara, Ballinagar. 1st Anniv.
KILLEIGH: SUNDAY 11.30 am
Annie & Matthew Gonoude, Derrygolan & Deceased Family Members.
Ms of Eucharist Sun April 28th Team B
Readers for Next Week-end:
7.30pm Killeigh: Rachael King
7.30pm Raheen: Family
9.00am Raheen: Nora Dunne
10.30am Ballinagar: Family
11.30am Killeigh: Róisín O'Connor
Readings will be posted out to you.
If you cannot come up to receive Holy Communion please raise your hand and the Minister will go to you.
Requests for Baptism, Confirmation and Marriage Certificates Under the new GDPR require a form to be filled in by those requesting the Certificate. The form is now available on www.killeigh.com
Happy Easter
to One and all.
Thanks to all who prepared or participated in any way in the Holy Week Ceremonies. (Sacristans, Choirs Servers, Ministers of the Word, Ministers of the Eucharist, Collectors, Counters, etc.)
TRÓCAIRE BOXES
Thanks to all for your wonderful support of Trócaire. Please bring your Trócaire boxes to any of the masses.
If possible please convert the contents of your box into notes, for consideration of your neighbours who volunteer to count this money.
PLEASE DO NOT LEAVE THE BOXES IN THE CHURCH AT OTHER TIMES
The Irish Catholic at the door: €2
Feeling involved in our parishes. P28.
The six C's for Catholics today.
P29.
Faith in our schools.
P30.
JOIN ACCORD as a Marriage Preparation Course Facilitator: The Catholic Marriage Care Service. Contact Aisling on 01-5053112. See poster for more details.
Lough Derg
, One day & three day
Retreats. Contact 071 986 1518. Email:
info@loughderg.org
or the web page
www.loughderg.org

2019 Pilgrimage posters & brochures at church entrances.
St Sinchills Camogie Club Cake Sale
this Easter weekend 20th & 21st from 6.30-10.30pm Sat & 10am-1pm Sun, in the GAA rooms Killeigh, please come and support, lots of goodies.
Thanks to all who supported the Seniors Gate Collection last weekend.
€317.50 Raheen/Ballinagar & €485 Killeigh.
Geashill Whist: Top: Patricia Quiinn
Other Winners: Sean Coffey, Bernadette Mahon, Ann Coughlan, Margaret Harte, Teresa Mulhare & Thomas Garry.
All ceremonies, in our churches are broadcast on
www.killeigh.com
CEMETERY MASSES 2019:
Sat
22nd
June
Raheen
7.30pm
Sun
30th
June
Ballinagar 10.30am
Sat
6th
July
Killeigh
7.30pm
Kildare & Leighlin Diocesan Pilgrimage to Lourdes 2019
1st – 6th August. €759. Single room supplement €155-€180.
SEE NOTICE BOARD
Saint Vincent De Paul Hidden - But Still Among US:
Prisoners are easy to forget. Locked in institutions, they seem to disappear from society's sight. But prisoners still belong to the society that incarcerates them. Most will eventually be released, and the experience they have in prison will greatly affect their ability to adjust to life 'outside' as law-abiding citizens.
The Society of the St, Vincent de Paul have a panel of people that visit inmates in Midlands and Portlaoise Prison. If you wish to be involved, please text 0860462405.
Eucharistic Healing Night
Thursday 25 April @ 7.30pm
St Fintan's Church, Ballyfin. Rosary, Holy Mass, an hour of healing followed by Blessing and Veneration of 1st Class Relic of Padre Pio
Tullamore BPW Meeting
Wed 17th Apr 8pm in the Bridge House. "Managing Household Waste". All Welcome. Non members €5.
West Offaly Training are running some great courses

–

Banagher Computer Camp for Kids 23rd – 26th April (including coding) Working with Autism starting the 30th April, and many more courses.

C

all 057 91 52003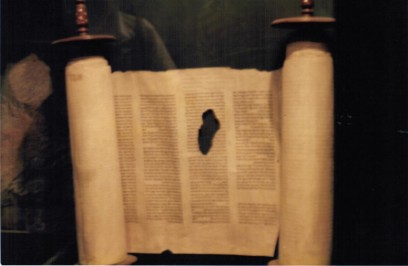 A Copy of the Scroll of the Prophet Isaiah, found in 1948 in a cave near the Dead Sea.
Carbon dated showing it was writen in 70 B.C.
Kildare & Leighlin Diocesan Pilgrimage
to
Lourdes 2019
1st – 6th August. €759.
Single room supplement €155-€180.
SEE NOTICE BOARD
HAVE YOU EVER CONSIDERED BEING A PRIEST?
HAVE YOU EVER CONSIDERED YOUR SON or GRANDSON BEING A PRIEST?
In Fr Sean's own words "If I had to up sum what
is all about, I think the first sentence probably says it best;
"When I reached the lowest ebb of my life, I called out to God and discovered that He was there for me"".


SAFEGUARDING CHILDREN IN CHURCH RELATED ACTIVITIES
Diocesan Designated Person; (D.L.P.) –
Mick Daly: 085-8021633 Email:- dlp@kandle.ie
The
DLP
is the person responsible
in our diocese
for receiving all Child Safeguarding concerns
and reporting same to the civil authorities.
Local Safeguarding Representatives: –
Bred
a O'Connor
Concepta Murphy
Aileen McDermott
Margaret Conroy
The
LSR's
role is to
promote awareness
of the diocesan safeguarding children policy and procedures,
and to ensure that church activities are provided in a way that ensures the safety and wellbeing of the children involved.
Diocesan Safeguarding Coordinator
Michelle Hughes
: Email:
safeguarding@kandle.ie
Du
ty Social worker can be contacted 9am-5pm
HSE National information line
:- 1850
24 1850
(callsave)
Outside of these hours in cases of emergency please contact
An Garda Síochána
Portarlington
: 057 8623112
Portarlington
: 057 8623112
~~~~~~~~~~~~~~~~~~~~~~~~~~~~~~~~~~~~~~~~~~~~~~~~~~~~~~~~~~~~~~~~~~~~~~~~~~~~~~~~~~
Warning signs of a STROKE:
The following can help you recognise if someone is having a stroke and ACT FAST if you see any of them.
F
–
FACE:
Ask the person to smile-does one side droop?
A – ARMS:
Ask the person to raise both arms and keep them there.
S – SPEECH:
Can the person repeat a sentence? Is their speech slurred?
T – TIME:
If you see any of the above signs –
even just one
– call 999 for an ambulance
/////////////////////////////////////////////////////////////////////////////
Suicidal Thoughts?
Share the Load!
….others can help you carry it.
Midlands Living Links
086-1600641
Console
– 1800 201 890
MABS – Money Advice
– Hibernian Hse, 057 93 23211 / 93 52252 (free & confidential).
C.I.C. – Citizens Information Centre
Mon-Sat, 10.30am-12.30pm
057 9352204.
Samaritans
:
1850 60 90 90
1life, Suicide helpline 247 100
We can help! Contact Offaly Domestic Violence Support Service (ODVSS)
on our
Confidential Information Line
057 9351886.
(Open Mon to Fri 10am to 12pm2pm to 4pm)
Have you got a number in your phone after the letters I.C.E.?
In Case of Emergency?

DO IT NOW!
Grow:

World Community Mental Health Movement in Ireland.
You alone can dot it,
but you can't do it alone.
If you are anxious, depressed,
or feeling suicidal,
GROW can support you.
Strictly Confidential.

www.grow.ie


Young Adult Group Monday 7.30pm,
Community Group Thurs 3.00pm
Community Health Centre 057 9351124.
Pontifical University – St Patrick's College, Maynooth.
Higher Diploma in Theological Studies One-year part-time evening course. Lectures are held on: Mon's & Wed's 6.30-9.30pm
Four Saturdays ( 2 Sat every semester) 10am – 4pm. Info etcContact 01-7084772 email:
admissions@spcm.ie
or
maynoothcollee.ie