Parish Newsletter 16th
February 2020
SIXTH SUNDAY IN ORDINARY TIME:
Tommy Mulkern, Urney.
KILLEIGH: SATURDAY 7.30 pm
Jim Plunkett, Quarrymount.
Richard, Mary & Teresa Dunne, Ballymacrossan &
Deceased Moran & Dunne Families.
John Lawlor, Killeenmore.
RAHEEN: SATURDAY 7.30 pm
Sarah Dunne, St. Oliver's. 1st Anniv.
James & Annie Crombie, Kilcappagh & Deceased Flanagan Family, Kilcappagh.
Pol & John Pender, Ballykeane, their son P.J. & Deceased Nolan Family.
Tom & Kathleen Mannion, Geashill.
Ellen & Michael Joyce, Kilcooney.
Helen Mulrennan, Ballymooney.
Joe & Ellen Dunne & Deceased Family.
RAHEEN: SUNDAY 9.00 am
BALLINAGAR: SUNDAY 10.30 am
James Farrell, Clonbullogue.
KILLEIGH: SUNDAY 11.30 am
Deceased Leogue Family, Rathfeston.
Masses during the Week:
=======================================================
NEXT WEEK-END:
KILLEIGH: SATURDAY 7.30 pm
Paddy & Eileen Casey, Mohia.
Andrew & Kathleen Kinnarney, Killurin.
Ellen McInerney, Derryadd.
RAHEEN: SATURDAY 7.30 pm
Phil Henchy, Geashill Station, Ard.
RAHEEN: SUNDAY 9.00 am
BALLINAGAR: SUNDAY 10.30 am
Joe & Margaret Gallagher &
Deceased Family, Cappyroe.
KILLEIGH: SUNDAY 11.30 am
==============================================================================================
Ms of Eucharist Sun Feb 23rd Team E.
Readers for Next Week-end:
7.30pm Killeigh: Elizabeth Kinnarney
7.30pm Raheen: Family
9.00am Raheen: Michelle O'Byrne
10.30am Ballinagar Jimmy Wrafter
11.30am Killeigh: Patricia Nunan
Readings will be posted out to you.
===============================================
If you think God is calling you to be a priest contact:-
045 897470 or email
vocations@kandle.ie
Trócaire Box will be available at masses from next week. Please take one home.
Parish Envelopes
with a copy of Parish Accounts 2019 are being distributed to every family in the Parish.
Please contact the office if changes need to be made to names or addresses.
Again
Thanks
to all who so generously support the Parish & thanks to those delivering the envelopes.
The Irish Catholic at the door:
€2
Hundreds of young Catholics gather to celebrate Faith. Page 1 & 3
Bernie Kane: an unshakeable faith.P34
Ask for the ancient paths, where the good way is… Page 40
From Grief to Grace:
A Holy Hour of Prayer for those affected by Sexual Abuse.
Cathedral of the Assumption, Carlow on Friday February 28th at 7.30pm.
Geashill Wednesday Club:
Wednesday's in Geashill Old School 10am-12noon. Next 2 weeks Latch Hook - Cushions. Learn or pass on your skills. Come for the Cuppa & the chat. Men & Women welcome. Concepta 057 93 43876 or Gretta 086 363 9009
Killeigh Community Centre Development Association
Fun run/walk on Sunday 16th February commencing at 2pm from Killeigh graveyard. All proceeds go towards the James Saunders Medical Fund. Adult €10 Family €20. Operation Transformation participants FOC.
The Patron Scheme has now recommenced and our committee members will be calling again to households in all areas of Killeigh. They will be clearly identified. Thank you to all who have already signed up. If anyone has any queries please contact any member of the committee.
Maria Montessori AMS Preschool & After-School Service enrolling now for September 2020. Contact: Breda 085-122 2654.
Killeigh Community Preschool are running an afternoon session starting from September 2020. Limited places available, please contact Sandra Dunne on 087 204 0467
Geashill/Ballinagar Senior Citizens:
Chiropody Service Thursday Feb 20th at 10.30am in Geashill Old School.
Geashill Whist
:
Top:
Bernadette Mahon
Other Winners:
Bridie O'Grady, Brid O'Brien, Teresa Byrne, Noreen Garry & Marie Garry.
Club and Community notes available on
www.killeigh.com
RESEARCH: P.J. Goode a Cloneygowan local historian is researching for a booklet to commemorate the volunteers of the
D Company (Cloneygowan). Is there any locals who might have documents, memorabilia and of course stories or memories about those heroic veterans of the past; they deserve to be remembered by us now in this centenary year. Email me at

p.j.goode@hotmail.com
Praise and Worship Meeting in the Parish Center St. Peter and Paul's Church Portlaoise on Thurs 20th Feb from 7:30-9.30pm. Rosary, Praise and Worship with Music Ministry. Speaker: Fr. Sean Hyland c.c.
CARING FOR OUR COMMON HOME:
Bringing Laudato Si to Life in our Parish Communities. "Truly much can be done!" (Pope Francis, Laudato Si, 180)
Conference with dynamic speakers, exhibits, workshops. Wed March 4th in the dolmen Hotel, Killkenny Rd, Carlow 10am-4.30pm. To book 01- 629 3333.
See Poster on church board.
TALK: Mr. David Cogley, Consultant Orthopaedic Surgeon, talks about his work as a volunteer surgeon in Vietnam this Wed 19th February at 8pm in The Bridge House Hotel. All welcome.
THANKS: Tea/Coffee Morning Killeigh:
€148 raised for Spinabifida.
Bingo in Ballinagar Hall every Tuesday evening at 8.30pm.
Clonaslee Dev. Assoc. Bingo.
Monthly Bingo next
Sunday 23rd at 3pm in Clonaslee Community Centre.
Thanks to all who give donations through banking direct debits.
€396 received in January.
Catholic convert Keith Nester answers the question, "What's so great about being Catholic?"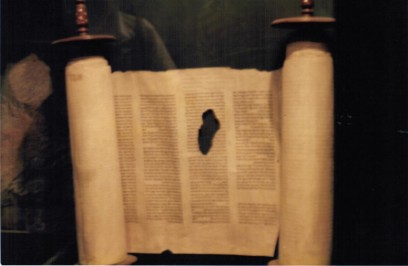 A Copy of the Scroll of the Prophet Isaiah, found in 1948 in a cave near the Dead Sea.
Carbon dated showing it was writen in 70 B.C.
CEMETERY MASSES 2020
Sat 27th June Raheen
Tue 30th June Annagharvey
Sun 5th July Ballinagar
Sat 11th July Killeigh


SAFEGUARDING CHILDREN IN CHURCH RELATED ACTIVITIES
Diocesan Designated Person; (D.L.P.) –
Mick Daly: 085-8021633 Email:- dlp@kandle.ie
The
DLP
is the person responsible
in our diocese
for receiving all Child Safeguarding concerns
and reporting same to the civil authorities.
Local Safeguarding Representatives: –
Bred
a O'Connor
Concepta Murphy
Aileen McDermott
The
LSR's
role is to
promote awareness
of the diocesan safeguarding children policy and procedures,
and to ensure that church activities are provided in a way that ensures the safety and wellbeing of the children involved.
Diocesan Safeguarding Coordinator
Michelle Hughes
: Email:
safeguarding@kandle.ie
Du
ty Social worker can be contacted 9am-5pm
HSE National information line
:- 1850
24 1850
(callsave)
Outside of these hours in cases of emergency please contact
An Garda Síochána
Portarlington
: 057 8623112
Portarlington
: 057 8623112
~~~~~~~~~~~~~~~~~~~~~~~~~~~~~~~~~
Warning signs of a STROKE:
The following can help you recognise if someone is having a stroke and ACT FAST if you see any of them.
F
–
FACE:
Ask the person to smile-does one side droop?
A – ARMS:
Ask the person to raise both arms and keep them there.
S – SPEECH:
Can the person repeat a sentence? Is their speech slurred?
T – TIME:
If you see any of the above signs –
even just one
– call 999 for an ambulance
/////////////////////////////////////////////////
Suicidal Thoughts?
Share the Load!
….others can help you carry it.
Midlands Living Links
086-1600641
MABS – Money Advice
– Hibernian Hse, 076-107-2710 (free & confidential).
C.I.C. – Citizens Information Centre
Mon-Sat, 10.30am-12.30pm
057 9352204.
Samaritans
:
1850 60 90 90
Pieta House 1800 247 247 or 0818 277 438
Samaritans new freephone number 116 123
visit www.3ts.ie/need-help/ for a full list of crisis helplines
We can help! Contact Offaly Domestic Violence Support Service (ODVSS)
on our
Confidential Information Line
057 9351886.
(Open Mon to Fri 10am to 12pm2pm to 4pm)
Have you got a number in your phone after the letters I.C.E.?
In Case of Emergency?

DO IT NOW!
Grow:

World Community Mental Health Movement in Ireland.
You alone can dot it,
but you can't do it alone.
If you are anxious, depressed,
or feeling suicidal,
GROW can support you.
Strictly Confidential.

www.grow.ie


Young Adult Group Monday 7.30pm,
Community Group Thurs 3.00pm
Community Health Centre 057 9351124.
Pontifical University – St Patrick's College, Maynooth.
Higher Diploma in Theological Studies One-year part-time evening course. Lectures are held on: Mon's & Wed's 6.30-9.30pm
Four Saturdays ( 2 Sat every semester) 10am – 4pm. Info etcContact 01-7084772 email:
admissions@spcm.ie
or
maynoothcollee.ie