Parish Newsletter 19th
January 2020
Second Sunday in Ordinary Time
Sarah Healion (Conway), Killurin & Bellard, Tullamore & Cully, Blueball.

KILLEIGH: SATURDAY 7.30 pm
Con & Brigid Brophil, Gorteen.
Thomas & Veronica McElduff, Scrubb Hill.
John & Agnes Sutherland, Derrybeg.
Nan Delaney, Brigid Deegan &
Johnny Brennan, Killeigh.
RAHEEN: SATURDAY 7.30 pm
Philip & Eddie Brennan, Cloneygowan.
RAHEEN: SUNDAY 9.00 am
John & Eileen Fahy, Geashill &
Deceased Flynn Family Members, Geashill.
BALLINAGAR: SUNDAY 10.30 am
Baby Darragh Lacy, Clonmore.
KILLEIGH: SUNDAY 11.30 am
Margaret Dunne, Killurin. 1st Anniv.
Her Sons Cyril & Declan Dunne.
Philomena O'Gorman, Fenter.
Masses during the Week:
=======================================================
NEXT WEEK-END:
KILLEIGH: SATURDAY 7.30 pm
Marie Kelly, Gorteen. Months Mind.
Michael & Sarah Delaney. Maura &
Tim Joe Delaney. Edward & Mary Conroy. Pat Corcoran. All from Ballinasragh.
RAHEEN: SATURDAY 7.30 pm
Albert Henchy, Ard. Months Mind.
John Clear, Geashill. 1st Anniv.
Annie, Willie & Pat Spollen, Ballydownan.
Rich & Mary Bryan, Geashill.
Patrick McHugh, Backwood.
Baby Lillie Leavy, Ballykeane.
Kathleen & Andrew Carter, Ballykeane.
RAHEEN: SUNDAY 9.00 am
Michael & Rose Cleary, Ard & Clonminch.
Maeve Cleary, Cloneygowan.
BALLINAGAR: SUNDAY 10.30 am
Séan Mulligan, Rathfeston.
KILLEIGH: SUNDAY 11.30 am
Mick O'Rourke, Killeigh. 1st Anniv.
==============================================================================================
Ms of Eucharist Sun Jan 26th Team A.
Readers for Next Week-end:
7.30pm Killeigh: Family
7.30pm Raheen: Family
9.00am Raheen: Catherine Cleary
10.30am Ballinagar Catherine Dolan Snr
11.30am Killeigh: Family
Readings will be posted out to you.
===============================================
If you think God is calling you to be a priest contact:-
045 897470 or email
vocations@kandle.ie
Bring a newsletter to your neighbour.
Requests for Baptism, Confirmation and Marriage Certificates Under the new GDPR require a form to be filled in by those requesting the Certificate.
The form is now available on www.killeigh.com
Next Sunday Jan 26th is the Sunday of the Word of God.
January 26th to February 1st
is Catholic Schools Week.
Bishop Denis is recommending
that all priests celebrating Masses in Kildare & Leighlin temporarily suspend the Sign of Peace until the current flu outbreak has abated.
The Irish Catholic at the door:
€2
If we are not on fire with love for Jesus Christ, none of our good intentions matter. Page 14 & 15.
Christians face increasing peril in Nigeria, missionaries warn. Page 6 & 16
A unique honour for Knock Shrine at inaugural 'Sunday of the Word of God' Mass at St Peter's Basilica, Rome. P11
KILLEIGH Community Centre Development Association
TRANSFORMATION OPERATION
Thanks to all the Community Support last Sunday. Registration is being extended to Sunday 19th 9am to 11am and it will still be a 6 week programme finishing the last week in Edgewater Medical Centre.
Couch to 5K at Killeigh Walking Track. Tues and Thurs evenings 7-8.15pm. Cost: €30 per person includes yearly membership for use of the walking track. Further information contact Patricia 087 3744909, Ashling 087 7673697 or Ger 087 6534368
Tea/Coffee Morning in Killeigh last week raised €180 in aid of Down Syndrome. Thanks to everyone. Thanks also to Sandra for the beautiful baking for all the coffee monrnings. Apologies for the omission on the newsletter before Christmas.
Geashill Wednesday Club:
Wednesday's in Geashill Old School 10am to noon. Board Games Old & New. Come for the Cuppa & the chat. Learn new skills. Men & Women welcome.
Bingo in Ballinagar Hall every Tuesday evening at 8.30pm.
Club and Community notes available on
www.killeigh.com
Mass Cards and Mass Bouquets
available in the Sacristy after mass.
SACRISTAN in Raheen Church.
Applicants are invited for the position of Sacristan in St. Mary's Church, Raheen. Job description and Application Form available from Parish Office. Completed Applications with References to be returned to Fr. John Stapleton by
Friday 24th January 2020.
No appointment will be confirmed until Garda Vetting is completed.
Killeigh Parish is an equal opportunities employer.
This is an hourly paid position.
PAYE/PRSI apply.
Killeigh N.S. Enrolment 2020/2021
Applications now available from the school.
Closing date Mon 27
th
Jan.
K & L Diocesan Adoration Committee Invitation:
To all who come to Adoration in
St. Patricks Church, Killeigh best wishes from the "Diocesan Adoration Committee". We would like to invite you all to our prayer day in Carlow college on Sat Jan 25th 2020 at 10am. Lunch Served. Hope you can come. Rosary, Adoration, Holy Mass, Sharing etc. All welcome. God Bless.
Public Lectures in Carlow College St Patricks.
20 January – Climate Change
27 January – Nazi Concentration Camps, to mark International Holocaust Remembrance Day.
Both lectures are open to all and begin at 1.45pm in the Cobden Hall.
Praise and Worship Meeting
Parish Center St. Peter and Paul's Church Portlaoise Sat 25th Jan 10:40am immediately after 10am Mass. Rosary: Praise and Worship with Music Ministry & Praying for Healing. All welcome.
Drugs and Alcohol Abuse effects families regardless of status in life. You did not cause it, you can't control it and you can't cure it. Help is available for those who live with this dreadful disease call 085 787 2730.
Clonaslee Dev. Assoc. Bingo.
Monthly Bingo next

Sunday 26th at 3pm in Clonaslee Community Centre.

John Gorman, Cloneygowan.
Catholic convert Keith Nester answers the question, "What's so great about being Catholic?"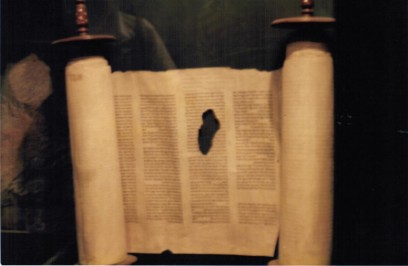 A Copy of the Scroll of the Prophet Isaiah, found in 1948 in a cave near the Dead Sea.
Carbon dated showing it was writen in 70 B.C.
CEMETERY MASSES 2020
Sat 27th June Raheen
Tue 30th June Annagharvey
Sun 5th July Ballinagar
Sat 11th July Killeigh


SAFEGUARDING CHILDREN IN CHURCH RELATED ACTIVITIES
Diocesan Designated Person; (D.L.P.) –
Mick Daly: 085-8021633 Email:- dlp@kandle.ie
The
DLP
is the person responsible
in our diocese
for receiving all Child Safeguarding concerns
and reporting same to the civil authorities.
Local Safeguarding Representatives: –
Bred
a O'Connor
Concepta Murphy
Aileen McDermott
The
LSR's
role is to
promote awareness
of the diocesan safeguarding children policy and procedures,
and to ensure that church activities are provided in a way that ensures the safety and wellbeing of the children involved.
Diocesan Safeguarding Coordinator
Michelle Hughes
: Email:
safeguarding@kandle.ie
Du
ty Social worker can be contacted 9am-5pm
HSE National information line
:- 1850
24 1850
(callsave)
Outside of these hours in cases of emergency please contact
An Garda Síochána
Portarlington
: 057 8623112
Portarlington
: 057 8623112
~~~~~~~~~~~~~~~~~~~~~~~~~~~~~~~~~
Warning signs of a STROKE:
The following can help you recognise if someone is having a stroke and ACT FAST if you see any of them.
F
–
FACE:
Ask the person to smile-does one side droop?
A – ARMS:
Ask the person to raise both arms and keep them there.
S – SPEECH:
Can the person repeat a sentence? Is their speech slurred?
T – TIME:
If you see any of the above signs –
even just one
– call 999 for an ambulance
/////////////////////////////////////////////////
Suicidal Thoughts?
Share the Load!
….others can help you carry it.
Midlands Living Links
086-1600641
MABS – Money Advice
– Hibernian Hse, 076-107-2710 (free & confidential).
C.I.C. – Citizens Information Centre
Mon-Sat, 10.30am-12.30pm
057 9352204.
Samaritans
:
1850 60 90 90
Pieta House 1800 247 247 or 0818 277 438
Samaritans new freephone number 116 123
visit www.3ts.ie/need-help/ for a full list of crisis helplines
We can help! Contact Offaly Domestic Violence Support Service (ODVSS)
on our
Confidential Information Line
057 9351886.
(Open Mon to Fri 10am to 12pm2pm to 4pm)
Have you got a number in your phone after the letters I.C.E.?
In Case of Emergency?

DO IT NOW!
Grow:

World Community Mental Health Movement in Ireland.
You alone can dot it,
but you can't do it alone.
If you are anxious, depressed,
or feeling suicidal,
GROW can support you.
Strictly Confidential.

www.grow.ie


Young Adult Group Monday 7.30pm,
Community Group Thurs 3.00pm
Community Health Centre 057 9351124.
Pontifical University – St Patrick's College, Maynooth.
Higher Diploma in Theological Studies One-year part-time evening course. Lectures are held on: Mon's & Wed's 6.30-9.30pm
Four Saturdays ( 2 Sat every semester) 10am – 4pm. Info etcContact 01-7084772 email:
admissions@spcm.ie
or
maynoothcollee.ie