KILLEIGH old cemetery
Cemetery Stones
This map is from the road at the top, to the school wall at the back,
So AREA C are the stones STANDING BY THE WALL on the Village side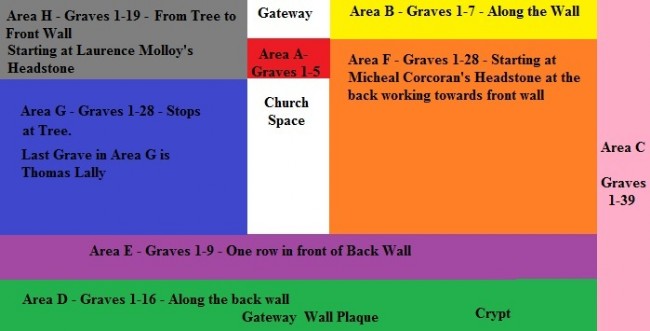 LIST OF FAMILY NAMES
IN DIFFERENT AREAS OF GRAVEYARD

Very Rev. W. PhelanRev Ml KennedyChoissellChapel plot etc
Digby Stone left panel
panel - J. Kinsellapanel- L. Rigney and Fr. Delaney.
Rev. J. Kenny C M

- AREA B

Pat DeeranColganHylandMolloyGormanDunneKenny


- AREA C

Michael DunneDunneMurryLawlerCarrollPurcellQuinThomas
WhelehanCarrolDunnOwens& John CarrollBlakeFlanagan
Fletchard ConroyCasyKilduffWilsonBrophyStones
BrowneHannafyLedwithPolanClearyDempseyWelchBrowne
DunnCarrollMcGarryWalshMorrisWalsh/William
MooneyClearyMahonConroy's

- AREA D

Philip LynamEllen DeeganMolloy (crypt)
FreerKellyCruiseDunne (wall plaque)
HealionMitchell - ( Headmaster of Killeigh School)Kelly
Horan Kilduff/ Rowland CruiseBrienGibbsGaffney.

- AREA E.

John QuinnDempseyMorris McEvoyMcDonald
CoughlanGarry YarrKelly

- AREA F

Ml CorcoranMcEvoyWhelehanMurryMcdonaldWhittaker
CarrolCarrolCarrollMahonDunneAnn AdamsCasey
DempseyGuynanKelly ClearyWalshHennelly/
Kate McDonaghDoorleyHylandMcDonald / Philip Lynam
DalyDalyCondonClavinMeehan
Unknown - cross


- AREA G
John FlanaganEganByrnByrneGravesMaraKennyFinn
CarrollHennesseyCodyKellyMurrayByrne
- stone face downSmythBerryBrowneCosgrave
WalshSheilBerryGroganGrave
stone face downMooneyMitchelMooreLally.

- AREA H

Laurence MolloyDunne
- Unknown Gravestone face down.
- " " " "HylandBerryClarey
QuinnBreinMooneyFitzgeraldJennings
Daly CarrollDoranNolanDunneDempseyCarberry




CLICK ON THE IMAGES TO SEE ENLARGED PICTURE