Latest News
INFO & NEWS > History & Heritage > Diocesan News
Download and read the Pastoral Letter of Bishop Denis
Bishop Denis
meeting with Pope Francis
during 'Ad Limina Visit'
January 2017
Interview with bishops

re meeting with Pope Francis.
Pastoral Letter on Funerals
Pastoral Letter for November … continuing the conversation around how we celebrate Funerals
Dear Friends,
We find ourselves once more in the darkening days of winter when nature itself moves ever closer to its lowest ebb in the course of its yearly cycle. November is a month when we traditionally remember our dead and pray for all our loved ones who have gone before us. It is the most difficult moment in life, when we are confronted by personal grief, a grief that is sometimes all the more acute because of the circumstances or suddenness of death. My thoughts are particularly with those who have lost a loved one in the past year. May you be assured of my prayers as you continue to come to terms with the sadness and loss that come with parting.
Last year, at this time, I wrote to you indicating that a conversation was going to take place across the diocese about how we celebrate funerals in our local parishes. I am delighted to tell you that such a conversation has taken place, and indeed, that it will continue. Since that pastoral letter of November 2014, every parish undertook a detailed questionnaire about our funeral practices. This questionnaire consulted not only parish clergy and staff but also parish pastoral councils and liturgy groups. It was followed by a very successful facilitated conversation in each of the three deaneries, in Mount St. Anne's, Killenard, in Leighlinbridge Parish Centre and in The Osprey Hotel in Naas. These gatherings were attended by a wide cross section of interested parties including, among others, funeral directors, parish clergy and staff, music ministers and members of funeral ministry teams. While a full account from the conversations is available to read on our diocesan website, I want to comment on a few things that arose in the conversation.
The consolation faith brings: I was heartened and humbled to see the deep care and compassion that everyone felt for people in the midst of mourning. This was an overarching theme in every conversation. The desire to support and care for families at one of the most difficult times in their lives was paramount. Alongside this desire was the deeply held belief that our faith allows us to be a people of hope, even in the face of death. There was a keen awareness that the rituals and prayers following a death proclaim, for the bereaved and for all who gather with them, the Christian belief in the resurrection. While the pain of mourning cannot be taken away, the prayers and actions of our liturgy at the time of death enable us to pray for our loved one who is returning to God while also proclaiming our understanding of death through the eyes of faith. This is the consolation of our faith.
The new reality and context of funerals: Often in the conversations I heard people talk about the solid foundation we have in regard to the celebration of funerals. There was a strong desire to build upon this foundation so as to let the prayer of the Church continue to minister to those who mourn. There was also an awareness that our funeral rites take place in the context of new realities that exist in many of our parishes. Many families coming to the Church for the funeral of a loved one may not be as engaged with the Church as they were in the past. Indeed, the 'family' who gather for a funeral may be more complex than in the past. And yet families are more involved in actually preparing the funeral liturgies than ever before. As a result, I can see a clear need to sensitively help families both prepare as best they can and pray the rituals around the time of death. This help comes primarily from the local parish and funeral directors. And I want to take this opportunity to highlight the tremendous work and extraordinary contribution that parish clergy and staff and funeral directors carry out every day in our parishes. The purpose of this follow up letter is to support and endorse practice and custom at a local parish level.
Throughout the conversation people have asked me to address in a pastoral and respectful way three areas of concern in particular: the place of eulogies or words of remembrance; the presentation of symbols or personal mementoes of the deceased and something on the choice of music. From the outset I want to state emphatically no family should feel they must have someone deliver a eulogy or people carrying up mementoes. In fact neither the eulogy nor the mementoes are part of the official liturgy of the Church. But if there has been a tradition of a eulogy or the bringing up of a number of mementoes in your parish, it is better to frame it within current best practice.
The Eulogy / Appreciation: There should be at most one eulogy, preferably delivered at the Removal or in the Cemetery. If it is to be delivered during the Mass, it may happen at the end of the Mass, once the text has been approved by the celebrant. The text should convey the family's thanks for support around the death and it should speak of the faith of the deceased. It is important that the eulogy text be agreed with the celebrant. It should last no longer than three minutes.
Mementoes: Regarding mementoes, they are different to the Christian symbols resting on the coffin, and they typically might be items personal to the deceased and their life story or interests. It is important that these mementoes respect the liturgy and are appropriate to be placed on the sanctuary. The best time to carry up the mementoes is at the beginning of the Mass. Once again, I stress neither the eulogy nor the mementoes are necessary to the liturgy.
Choice of Music: The Diocese has a long tradition of liturgical music and prides itself in a rich repertoire. Music and song have a great presence in our liturgy and often the gentle instrumental piece speaks loudest of all. Once again, there may often be a request around the loved one's favourite song or ballad – sometimes the lyrics will be at opposite ends to the liturgy. Hymns or appropriate instrumental music should make up the important elements of the liturgy, if there is to be the inclusion of a favourite song, this may happen during the sympathising at the evening removal or as the coffin leaves the church at the end of the Mass.
I have asked the Diocesan Commission for Liturgical Formation to prepare a more detailed guide on all these issues over the coming months, a guide that can be given to families as they begin their preparations. This guide will take on board much of what has emerged in the past year's consultation. Once again the conversation continues, and please feel very free to engage with us over the early months of 2016.
Recognising practices and offering resources: Changing practices were also named in our conversations. These included a small growth in the practice of cremation of the body after the Funeral Mass has taken place, as well as a significant increase in the reception into church taking place immediately before the Funeral Mass, rather than on the evening before. This latter trend calls us to make sure that families are supported in having prayer in the home/funeral home ahead of the Funeral Mass. As a result, I have again asked the Commission to provide parishes with prayers for this context. Again, I acknowledge the gentle ministry of priests, parish sisters, funeral directors and parish lay ministers who already are leading this prayer. I hope that the Prayer Resource will allow even more people to share this ministry, including, where desired, the families of the deceased themselves.
As we look ahead, I very much pray that what we have begun in the past year will grow and bear fruit in parishes across our diocese. It is a beginning; the conversation and the work will continue. Death touches all families and I pray that these gentle guidelines, emerging from a very full conversation over the past twelve months will serve to enhance our liturgies and our funeral celebrations across our diocese.
†Denis Nulty
Bishop of Kildare & Leighlin
November 2015
Message from Bishop Denis on the Diocesan Response to the current refugee crisis
"for I was hungry and you gave me food, I was thirsty and you gave me drink, I was a stranger and you welcomed me" Mt.25:35
The past couple of months have been a huge challenge on the resources and the mindset of continental Europe. We currently face the greatest crisis Europe has been challenged with since the Second World War, the Refugee issue. Yes, when we were confronted by Grexit, there was an overnight emergency meeting of European leaders; when faced with the refugee boats and inhumane settlements, the emergency meeting can take place two weeks down the road. Money seems to be of greater priority to the political will of Europe than the value of life. Yes, when the abandoned lorry with seventy-one victims decomposing inside was not on the side of the M9, the M7 or the M50, it wasn't really our concern; the Austrians can deal with that. Yes, when we saw the images of the Hungarians building a barbed wire fence, we didn't get too disturbed. Yes, when the Port of Calais was blocked, we saw it as very inconvenient for our hauliers, caught up in a confrontation not of their making. Or is it? Didn't that image stare us all in our faces on Thursday morning's papers of the young three year-old Syrian boy whose lifeless body was washed up like driftwood on a Turkish beach. Surely our baptismal calling invites us and challenges us as a diocese to look after the most vulnerable, to be cognizant of the most forgotten and to welcome the most displaced.
I applaud different efforts in the diocese that are currently underway to address our collective response as parishioners, as followers of Christ to this huge crisis. It calls for an inter-agency response and the church will not be found wanting in playing its part. I encourage parishes and deaneries to gather together to reflect on our pastoral response. I always believe it is important to make distinctions in our use of words – migrants move, refugees flee and in all cases they are fleeing from situations of terror and blatant persecution. In this regard I give my full support to the public meeting organized for St. Peter & Paul's Church, Portlaoise on Monday next at 8pm. I conclude with the words of Pope Francis who responded to the migrant issue much faster than any other leader in Europe when he spoke at Lampedusa: "Immigrants dying at sea, in boats which were vehicles of hope and became vehicles of death".
A Prayer for Refugees
Almighty and merciful God,Whose Son became a refugeeAnd had no place to call his own.
Look with mercy on those who todayAre fleeing from danger,Homeless and hungry.
Bless those who work to bring them relief;Inspire generosity and compassion in all our hearts;And guide the nations of Europe towards that dayWhen all will rejoice in your Kingdom of justice and peace.
We make our prayer through Christ our Lord. Amen.


'MARRIAGE MATTERS'

Pastoral Thoughts on the Referendum on Marriage

be read and distributed at all weekend Masses on the 02/03 May 2015
As I make my Confirmation visits these days, many priests and people ask forguidance or direction in relation to the upcoming referendum. I know thison marriage is a complex and sensitive topic. Therefore I feel that, asbishop, I cannot in good conscience neglect to address this issue; I pray mywill in no way offend or hurt anyone. That is certainly not my intention.my own reading and reflection on this issue, I came across the text of theletter, written by Pope Francis in the days when he was Archbishop ofAires. Argentina then was faced with the same debate with which we inare currently engaged. I believe the following text encapsulates thevery clearly. I quote:

"
marriage (made up of man and woman) is not the same as the union of twoof the same sex. To distinguish is not to discriminate but to respect; to differentiate in order to discern is to value appropriately, not toAt a time when we place emphasis on the richness of pluralism andand cultural diversity, it is a contradiction to minimize human differences. Ais not the same as a mother.cannot teach future generations that preparing yourself for planning a familyon the stable relationship between a man and a woman is the same as livinga person of the same sex. Let us also be aware that, in seeking to advance aclaim on behalf of the rights of adults, we may be setting aside the farright of children (who are the only ones who should be privileged in this) to rely on models of father and mother, mum and dad.
"is not a single-issue referendum but is very complex and demands carefulThe result will have many serious implications for our society. Thecollectively issued a statement after our March Meeting: '
is– reflect before you change it
'. That is exactly what I have been doing asBishop, and I invite all of you to reflect deeply on this issue over the comingIn making your referendum decision, I encourage you to value the modelChristian marriage which is the fundamental building block of our society.opinion matters, so make sure your voice is heard, and vote on May 22
nd
by voting, can you ensure your voice speaks in the referendum result.thank you for listening to this message. I wish you and your families everyand grace you need at this time.

+ Denis Nultyof Kildare & Leighlin

Full text of the letter from Cardinal Jorge Mario Bergoglio S.J. (Pope Francis)the two more recent documents from the Bishops' Conference '
MeaningMarriage
' and '
is Important - Reflect before you change it
' are available on
www.kandle.ie
================================================

================================================

================================================

ORDINATION OF BISHOP DENIS NULTY,
TO THE DIOCESE OF KILDARE AND LEIGHLIN
4th August 2013

Welcome by Archbishop Martin

Homily by Msgr Brendan Byrne

Homily of Bishop Denis Nulty


View Slide Show
announcement event
of Fr. Denis Nulty
to be our bishop
Carlow 7.May.2013
below:-

and listen to his opening address here >>>>>



Interesting Catholic News on www.iCatholic.ie









Log on to www.iCatholic.ie

View
other interesting videos.
eg
http://www.icatholic.ie/videos/portlaoise-2013-murtagh/

Bishop Jim Moriarty, previous bishop of our diocese,
with Msgr. Brendan Byrne,
former P.P. of Tullow in Co. Carlow,
who has been Administrator of our diocese for the last three years, and until Bishop Denis Nulty was ordained Bishop to serve in our Diocese of Kildare and Leighlin.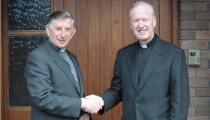 NBSCCCI review of Safeguarding Practice
in the Diocese of Kildare & Leighlin (May 2012)


To View the report click here
NBSCCCI Report
[
PDF Version]

Message from Monsignor Brendan Byrne,
Diocesan Administrator, Kildare & Leighlin Diocese
Sunday 9th September 2012
During the past week, we published a review of our diocese that was conducted by the National Board for Safeguarding Children in the Catholic Church in Ireland.This 32 page review is available on the diocesan website (www.kandle.ie) along with the full statement I made to welcome and to respond to the report.
I would like to repeat here what I said during the week that 'my thoughts today are with the survivors of abuse and with their families and I respectfully apologize to them for the hurt and offence they have carried and are still carrying'.
While the review comments that the diocese 'has had relatively few cases to deal with', it makes twelve recommendations so that this diocese can 'develop its current structures to make them more robust'.
This work has already begun.We look forward to welcoming Mr Ian Elliott and his team back to the diocese in the coming months to check that all their recommendations have been fulfilled.Again we will make this follow-up review publicly available.
I would like to thank all those who have contributed to the work of safeguarding children in this diocese.All our priests and over 150 lay volunteers have been trained to help ensure that all our parishes are providing safe environments for our young people.I would like to pay special tribute to Bishop Moriarty for his leadership on these issues. All this good work is reflected in the review. May the Lord, the Good Shepherd, continue to inspire us in this vital work.
Msgr. Brendan Byrne, Carlow, Sept 5th 2012.
Statement by Monsignor Brendan Byrne, Diocesan Administrator 5th Sept. 2012

"In welcoming the publication of this review I wish to reaffirm the commitment of our diocese to be fully accountable to the highest safeguarding standards".

Monsignor Brendan Byrne

The publication today of the review of Safeguarding Practice in the Diocese of Kildare and Leighlin prompts us to be mindful once again of the stories of people who have suffered great pain over many years. My thoughts today are with the survivors of abuse and with their families and I respectfully apologize to them for the hurt and offence they have carried and are still carrying.
On behalf of the Diocese of Kildare and Leighlin I want to thank the National Board for Safeguarding Children in the Catholic Church (NBSCCC) for conducting such a thorough review of the Safeguarding Practice in the diocese. As the report details, 18 allegations of sexual abuse were made against 10 priests of this diocese in the period covered by this review (January 1975 to May 2012). These allegations involve 8 deceased priests and two living priests who remain out of ministry. Both the Gardaí and HSE have been notified of all allegations and I want to thank them both for their work with us on all these matters. This diocese remains committed to working in partnership with statutory authorities to ensure that all aspects of children's and young people's welfare is managed promptly, professionally and justly.
While the review comments that the diocese 'has had relatively few cases to deal with' (in the last ten years this diocese has had to respond to one allegation against a serving priest of this diocese), it makes a series of recommendations so that this diocese can 'develop its current structures to make them more robust'. I accept in full the recommendations proposed in this review. Along with this statement, I am today publishing a schedule for how this diocese intends to fulfil the twelve recommendations in this report. This work has already begun. We look forward to welcoming the National Board for Safeguarding Children in the Catholic Church (NBSCCC) back to the diocese in the coming months to review the completion of this schedule.
While very significant progress has been made in creating and sustaining a culture of safety for children and young people in parish and diocesan activities this review challenges and encourages us to attain the highest standards possible. In welcoming the publication of this review I wish to reaffirm the commitment of our diocese to be fully accountable to the highest safeguarding standards.
I would like to thank all those who are involved in the work of Safeguarding in this diocese. May the Lord continue to inspire us in this vital work. In conclusion we pray again for the gift of healing and peace, particularly for those wounded by the deep wrong of child abuse.

Msgr. Brendan Byrne, Carlow, Sept 5th 2012.

Pastoral Area-Open Meeting.
Monday September 27th 2010 in Mountmellick
Pictures from this event are published Here >>>>