Parish Newsletter 21st / 22nd May 2022 - Sixth Sunday of EASTER
Cyril Dunne, Killurin.
KILLEIGH: SATURDAY 6.00 pm
Pauline & Jerry Dunne, Killurin.
Andy & Vera Buckley, Daingean.
Patty & Alan Dunne, Killurin.
George & Brigid Dunne, Killurin.
RAHEEN: SATURDAY 7.30 pm
Peter Tobin, Cloneygowan.
Mary Kelly, Alderborough.
Michael & Kathleen Boland, Coolraven.
Christine Nolan, St. Oliver's Est. Geashill.
BALLINAGAR: SUNDAY 10.30 am
Andy Tyrrell, Toberlaheen.
KILLEIGH: SUNDAY 11.30am
Masses during the Week:
Killeigh:
Tues 10am:
Prayer for the Church in China.
Wed 10.00am
Fri 7.30pm Noel Daly, Killurin. 1st Anniv.
Geashill - Available on Mobile Webcam of Ballinagar Church.
Mon 7.30pm
Tues & Wed 10.00am
Thurs 7.30pm & Fri 10.00am
MASSES for Next Week-end:
KILLEIGH: SATURDAY 6.00 pm
RAHEEN: SATURDAY 7.30 pm
Mary & Christopher Coleman, Bogtown.
Paddy & Anne Daly, Castlehill, Geashill.
Mary McEvoy, parents Annie & George & Brother Jim, Gorteen, Ard.
Ann & John Corcoran, Ballykeane.
William & Annie Dunne & son Billy & Deceased Dunne & Conroy Family.
BALLINAGAR: SUNDAY 10.30 am
Anne (Nancy) Campbell, Ballinagar.
Pat Geoghegan, Ballinagar &
Patrick & Bridget Cannon, Cappanageera.
KILLEIGH: SUNDAY 11.30am
===============================================
READERS for next week-end:-
Killeigh 6.00pm Family
Raheen 7.30pm Family
Ballinagar 10.30am Margaret Murphy
Killeigh 11.30am Family
Raheen E. Ministers next week are:-
Mary Dempsey & Emer Coleman
Ballinagar E. Ministers next 4 weeks are:-
May 29th John McDonald June 5th Hugh Murphy
June 12th Catherine Guinan
June 19th Johnnie Dunne
Congratulations to the First Communion classes of all four parish schools, who celebrate their First Holy Communion last week-end and this week-end. Thanks to their teachers and all the staff of our schools.
Thanks for your generous support of the Trócaire Lenten collection.
Total lodged so far €5,261
Diocesan Pilgrimage to Knock Shrine, Sun 5th June.
Ceremonies begin at 2.30pm with the Anointing of the Sick followed by mass at 3pm concluding with Procession of the Blessed Sacrament.
Bus from Mountmellick to Knock on June 5th. Contact 057 86 24390
Ballycommon TTC -
Free Walk-in I.T. Clinic
:
Every Friday from 9.30am-1pm. Use of the Internet, Printing Facilities & Access to on line services.
Medjugorje Group Pilgrimage 2022
7 Night Pilgrimage June 8- 15th. Cost: €765 person sharing. Dublin to Mostar. Contact: 086 815 7305.
Growth in the Holy Spirit Monthly Retreat
St. Peters and Paul's Parish Church Portlaoise
Sat 28th May 10 am - 1.00 pm.
Holy Mass @
10.am
- Confessions available.
Retreat continues in the Parish Center from 10.45 am to 1.00pm.
Rosary, Holy Spirit Novena, Praise and Worship.
Baptism in the Holy Spirit.
Contact Michael Nerney 086 8157305. Spiritual Director Fr. Ruairi O' Domhnaill P.P
Annagharvey Cemetery looks beautiful at the moment due to the large amount of mowing and trimming done on the grounds by Paddy Daly. Thanks Paddy.
PARISH OFFICE TIMES:-
Tues, Wed, Thurs, Fri 10.30am-12.45
Sympathy Cards and Mass Bouquets
available in the Sacristy after masses.
In St. Mary's Hall, Geashill Saturday May 28
th
from 11am – 3pm.
Your support appreciated.
Geashill Wednesday Club:
Join us on Wednesday morning May 25th from 10-12noon in the Old School Geashill for a fun morning to celebrate the month of May. (Bealtaine). Men and Women welcome.
Clothing Collection for Meals on Wheels: Monday June 13th in Killeigh & Ballinagar. Clothes can be left outside the church walls before 10am on Monday morning the 13th June.
New & used Clothing, men, women & children's, Shoes, Handbags, Soft Toys, Curtains, Sheets & Towels.
No Pillows or Duvets accepted.
Any questions call 087 414 8093
North Offaly Community Development
Volunteer Drivers needed for Meals on Wheels in the Killeigh area. Can you spare an hour at 12.30pm? Contact 057 9362755
PlayPals Playschool Cloneygowan.
Taking enrolments for Sept.
Maria Montessori AMS Preschool & After-School Service enrolling now for September. Call: Breda 085-122 2654.
Unheard Voices: Reflections of a Prison Chaplain'
This public event in Mount St. Anne's Retreat and Conference Centre this Tuesday 24th May is being called to explore the issues raised in Imelda Wickhan's recently published book which calls us to engage in dialogue & conversation in an effort to find new and creative ways of developing a more humane and holistic justice system. The event will afford an opportunity for all who are interested in this topic to share their views and ideas.
Speakers Imelda Wickhan, pbvm—former prison chaplain, Ian O'Donnell—Professor of Criminology at UCD, Seán Duggan—Head of Chaplaincy Services and Fr. Peter McVerry, SJ.
The event begins with Tea/Coffee @ 7pm.
Booking is essential:
Email:
secretary@mountstannes.com
to confirm your attendance.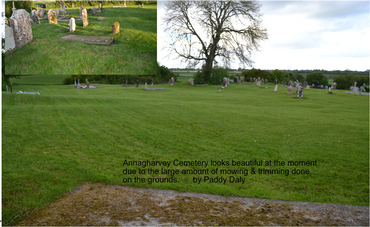 Changed Mass times.
Saturday evening Mass in Killeigh is at 6pm.
Saturday evening in Raheen at 7.30pm

Sunday morning in Ballinagar at 10.30am

Sunday morning in Killeigh at 11.30am
These times are provisional.
Interesting Catholic News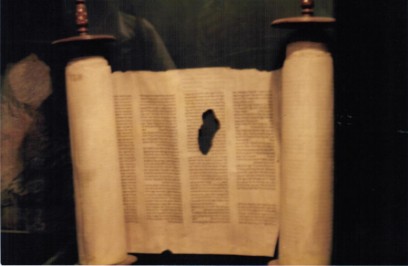 A Copy of the Scroll of the Prophet Isaiah, found in 1948 in a cave near the Dead Sea.
Carbon dated showing it was writen in 70 B.C.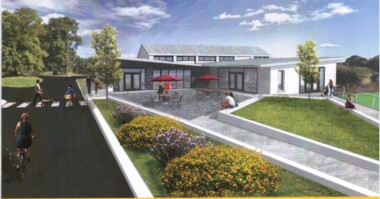 A Pandemic Update from Bishop Denis.
The Bishops Conference will meet in in March to review the situation.
Meanwhile the continuation of the following protective measures is recommended
to ensure the safety and wellbeing of the vulnerable or anxious members of the congregation:
-The
wearing of face covering
s
inside the Church buildings;
-Good
sanitising and cleaning
arrangements;
-
Suspension of a handshake
as the Sign of Peace;
-
Holy Communion to be received in the hand
;
-
Holy water not yet restored to fonts
for communal use at the entrances to Church buildings.
Please continue to
wear masks, sanitise
and maintain
social distance
.
Every blessing, + Denis Nulty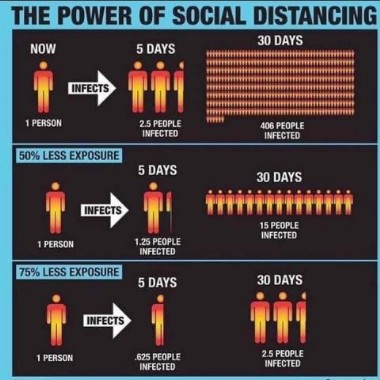 S
ignage,
S
anitisation,
S
tewarding,
S
upport,
S
ocial Distancing,
S
eating &
S
ymptoms.
Please note encouragement of Bishop Denis to those who are Elderly, Vulnerable or Ill not to come to mass for now.
SLIDE SHOWS:-
Visit your ancestors grave in
A CATHOLIC UNDERSTANDING
of The Bible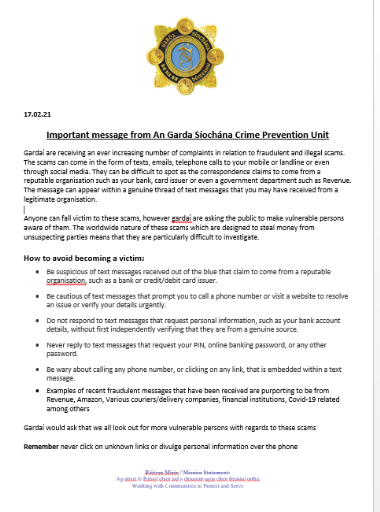 Warning signs of a STROKE:
The following can help you recognise if someone is having a stroke and ACT FAST if you see any of them.
F – FACE: Ask the person to smile-does one side droop?
A – ARMS: Ask the person to raise both arms and keep them there.
S – SPEECH: Can the person repeat a sentence? Is their speech slurred?
T – TIME: If you see any of the above signs –

even just one

– call 999 for an ambulance
/////////////////////////////////////////////////
Suicidal Thoughts?
Share the Load!
….others can help you carry it.
Midlands Living Links
086-1600641
MABS – Money Advice
– Hibernian Hse, 076-107-2710 (free & confidential).
C.I.C. – Citizens Information Centre
Mon-Sat, 10.30am-12.30pm
057 9352204.
Samaritans:
1850 60 90 90
Pieta House 1800 247 247 or 0818 277 438
Samaritans new freephone number 116 123
visit www.3ts.ie/need-help/ for a full list of crisis helplines
We can help! Contact Offaly Domestic Violence Support Service (ODVSS)
on our
Confidential Information Line
057 9351886.
(Open Mon to Fri 10am to 12pm2pm to 4pm)
Have you got a number in your phone after the letters I.C.E.?
In Case of Emergency?

DO IT NOW!
Grow:

World Community Mental Health Movement in Ireland.
You alone can dot it,
but you can't do it alone.
If you are anxious, depressed,
or feeling suicidal,
GROW can support you.
Strictly Confidential.

www.grow.ie


Young Adult Group Monday 7.30pm,
Community Group Thurs 3.00pm
Community Health Centre 057 9351124.
Pontifical University – St Patrick's College, Maynooth.
Higher Diploma in Theological Studies One-year part-time evening course. Lectures are held on: Mon's & Wed's 6.30-9.30pm
Four Saturdays ( 2 Sat every semester) 10am – 4pm. Info etcContact 01-7084772 email:
admissions@spcm.ie
or
maynoothcollee.ie