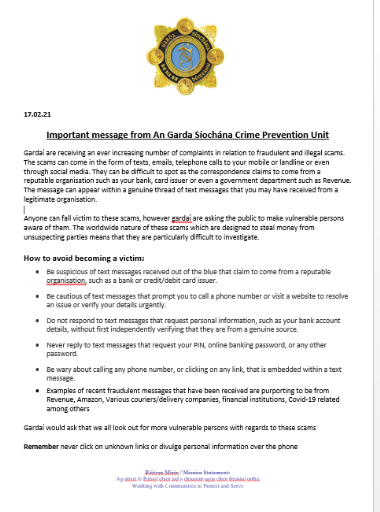 Parish Newsletter 13th June 2021
Fr. John and Msgr. Tom welcome Parishioners back to Mass in the churches. Maximum 50 People.
(Social spacing & wearing a mask)
KILLEIGH:
SATURDAY
7.30 pm
Pauline Reynolds, Killurin.
Michael & Margaret Fitzpatrick, Ballyduff.
John & Eileen Fahy, Geashill Village
BALLINAGAR:
SUNDAY
10.30 am
KILLEIGH:
SUNDAY
11.30 am
Patrick & Christine Walsh, Glendyne.
Killeigh Church:-
Tues,
Wed,
Thurs
&
Fri
at 10.00am
*************************************************************
Geashill - Ballinagar Mobile Webcam:
Mon
7.30pm
,
Tues.
10.00am
,
Wed.
7.30pm
Thurs & Fri
10am
Fr. Seán Dempsey
saying Mass each morning in Ballinagar Mon to Fri @ 10am
KILLEIGH:
SATURDAY
7.30 pm
Liam Conroy, Lockclose.
1
st
Anniv.
And his mother Annie Conroy.
& Richard + Brigid Colton and Baby Erika
Tony Daly, Geashill & Tullamore.
Donal & Kathleen O'Brien, Ballintogher.
BALLINAGAR:
SUNDAY
10.30 am
Rosemary Betson, Ballinagar.
Rose, Edward & Michael Gallagher, Cappyroe.
KILLEIGH:
SUNDAY
11.30 am
=====================================================
READERS next weekend:-
Raheen 7.30pm
Betty Crombie
Ballinagar 10.30pm
Jimmy Wrafter
Killeigh 11.30am
Eugene Cahill
Funerals & Weddings (50 Max):-
Funerals are considered private family events.
Attendance at wakes in private homes is for immediate family only.
Baptisms:- Maximum attendance 6.
This is mandatory as set out in the HSE and Government guidelines.
The following message is from the Department of
an Taoiseach
:
First communions, confirmations and baptisms may take place. Related family gatherings should strictly adhere to prevailing public health advice on household mixing, including visitors to your home and indoor and outdoor dining
.
Restrictions on religious services from May 10
th
(Subject to review)
Pods of 50 for a capacity of greater than 50:-
•social distancing guidelines are adhered to.
•the premises can be subdivided into distinct sections (cordoned or marked appropriately) of not more than 50 persons in each section.
•there is a minimum of 4 metres between sections.
•each section having its own entrance/exit route.
•there are separate arrangements for elements of the service involving close contact, for example the distribution of Holy Communion.
•strictly no movement of people between sections before, during or after the service.
•the premises is well-ventilated.
Outdoor Worship is not permitted.
Drive-in Religious Service
(e.g. church car park) all attendees have to remain in their vehicles.
Use of Religious premises
for any other purposes/parochial activities/community meetings etc. is not permitted in line with Government restrictions on organised indoor gatherings.
Thanks to all those returning their CHY4 Tax form that was sent out in the post.
The Parish received €19,649.81 in 2020.
Awareness Day – June 15
th
World Elder Abuse Awareness Day serves as a call to organisations and communities to raise awareness about Elder abuse, neglect and exploitation. Research suggests that 4 – 10% of older people experience some form of abuse, most of which will go unreported. This day is to make sure we remain focused on our older populations and ensure that they continue to lead lives of high quality and dignity. You can show your support by wearing a purple ribbon on World Elder Abuse Awareness Day on June 15th.
Are you being called to the Permanent Diaconate?
Permanent Deacons are ministers of the Word, the altar and service.
Bishop Denis is inviting expressions of interest in learning more about formation for the Permanent Diaconate in the Diocese of Kildare and Leighlin.
The Permanent Diaconate is open to men aged between 30 and 60 who have a genuine sense of vocation to this calling. Deacons are self-supporting and continue in their family lives and secular employment.
A new programme of discernment and formation for the Permanent Diaconate in the Diocese will commence in October 2021.
For further information please contact Rev. John McEvoy before Saturday July 31st. Tel: 059 916 1114
Email:
permanentdiaconate@kandle.ie
'You did not choose me but I chose you' – John 15:16
National Male Advice Line:
Offers confidential advice and support to Male victims of domestic violence and abuse over the phone. This Service is also available to family and friends who may have concerns for a loved one and are seeking some guidance on how to help them. Telephone 1800-816 588
S
ignage,
S
anitisation,
S
tewarding,
S
upport,
S
ocial Distancing,
S
eating &
S
ymptoms.
Please note encouragement of Bishop Denis to those who are Elderly, Vulnerable or Ill not to come to mass for now.
Useful Videos – kindly provided by the Archdiocese of Tuam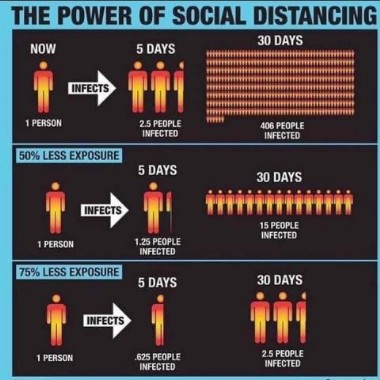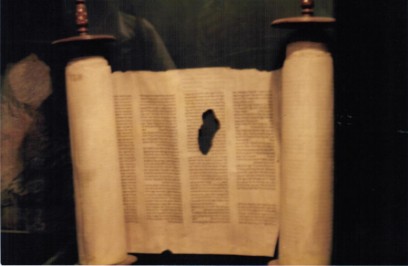 A Copy of the Scroll of the Prophet Isaiah, found in 1948 in a cave near the Dead Sea.
Carbon dated showing it was writen in 70 B.C.
Warning signs of a STROKE:
The following can help you recognise if someone is having a stroke and ACT FAST if you see any of them.
F – FACE: Ask the person to smile-does one side droop?
A – ARMS: Ask the person to raise both arms and keep them there.
S – SPEECH: Can the person repeat a sentence? Is their speech slurred?
T – TIME: If you see any of the above signs –

even just one

– call 999 for an ambulance
/////////////////////////////////////////////////
Suicidal Thoughts?
Share the Load!
….others can help you carry it.
Midlands Living Links
086-1600641
MABS – Money Advice
– Hibernian Hse, 076-107-2710 (free & confidential).
C.I.C. – Citizens Information Centre
Mon-Sat, 10.30am-12.30pm
057 9352204.
Samaritans:
1850 60 90 90
Pieta House 1800 247 247 or 0818 277 438
Samaritans new freephone number 116 123
visit www.3ts.ie/need-help/ for a full list of crisis helplines
We can help! Contact Offaly Domestic Violence Support Service (ODVSS)
on our
Confidential Information Line
057 9351886.
(Open Mon to Fri 10am to 12pm2pm to 4pm)
Have you got a number in your phone after the letters I.C.E.?
In Case of Emergency?

DO IT NOW!
Grow:

World Community Mental Health Movement in Ireland.
You alone can dot it,
but you can't do it alone.
If you are anxious, depressed,
or feeling suicidal,
GROW can support you.
Strictly Confidential.

www.grow.ie


Young Adult Group Monday 7.30pm,
Community Group Thurs 3.00pm
Community Health Centre 057 9351124.
Pontifical University – St Patrick's College, Maynooth.
Higher Diploma in Theological Studies One-year part-time evening course. Lectures are held on: Mon's & Wed's 6.30-9.30pm
Four Saturdays ( 2 Sat every semester) 10am – 4pm. Info etcContact 01-7084772 email:
admissions@spcm.ie
or
maynoothcollee.ie
Catholic convert Keith Nester answers the question, "What's so great about being Catholic?"