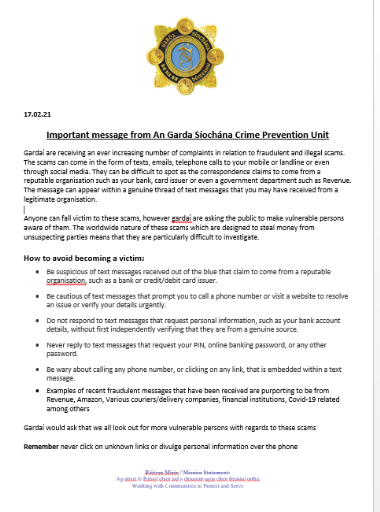 Parish Newsletter 18th April 2021
Fr John and Fr Tom thank you all for your generous contributions to the Easter Collection.
We Pray for:
Noel Cleary, Killelary. Funeral Mass Sunday 11.30am in Killeigh.
KILLEIGH: SATURDAY 7.30 pm
Brigid Plunkett, Killeigh. 1st Anniv.
Gerry & Pauline Dunne, Killurin.
RAHEEN: SATURDAY 7.30 pm
Joseph Whelan, Monasterevin. Months Mind
V. Rev. James Kaye, P.E., Rhode.
V. Rev. Michael Kaye P.E., Clonmore.
Deceased Kaye Family, Urney.
Malachy Bolton, his parents Christine & Joe & Ber Lambe, Geashill.
BALLINAGAR: SUNDAY 10.30 am
Simon Farrell, Ballyknocken.
KILLEIGH: SUNDAY 11.30 am
Noel Cleary, Killelary. Funeral.
Jimmy O'Rourke, Lockclose
Terence & Annie Berry, Scrubb.
Masses during the week:
Killeigh – Killeigh Mobile Webcam:-
Mon 10am For people of the parish
Tues 10am Annie Rooney, Meelaghans.
Thurs 10.00am Sonny & Betty Dunne, Quarrymount & Deceased Families.
Fri 10.00am Benefactors of
St. Joseph's Church Ballinagar.
*************************************************************
Geashill - Ballinagar Mobile Webcam:
=========================================================
NEXT WEEK-END:
KILLEIGH: SATURDAY 7.30 pm
Maureen Murray, Cloncollog, Tullamore.
Claire Geraghty, Newtown.
RAHEEN: SATURDAY 7.30 pm
James & Mary Hynes, Killelary.
BALLINAGAR: SUNDAY 10.30 am
Noel O'Meara, Ballinagar.
KILLEIGH: SUNDAY 11.30 am
Week-end Masses in the churches behind closed doors, on main webcam. During the week masses will be from the Oratory in Killeigh and Geashill through the mobile webcam.
TRÓCAIRE BOXES
THANKS for your ongoing support.
Total to date lodged €5,066
PLEASE use envelope provided in your Trócaire Pack and drop into either Priest House or to the Parish office Tue, Wed, Thurs, Fri 10.45am 12.45pm
Contact:-
Fr. Ruairí Ó Domhnaill
045 897470 or email
vocations@kandle.ie
or email the National Vocations Office on

info@vocations.ie
"Vocations aren't the result of planning, but an encounter with God that changes your life."
Pope Francis.
No Communion Calls until further notice. But if you need a Priest urgently do not hesitate to contact either of the Priests.
Funerals & Weddings:-
Restricted to the immediate family (10 members max.).
This is mandatory as set out in the HSE and Government guidelines.
Requests for Baptism, Confirmation and Marriage Certificates Under the new GDPR require a form to be filled in by those requesting the Certificate.
The form is now available on www.killeigh.com
Overseas Volunteers Training Course September 2021 - Open to all!
Viatores Christi, a faith-based development organisation has specialised in the recruitment, training and deployment of overseas volunteers since 1960. VC runs an online volunteer preparation course covering Community Development, Health, Global Awareness, Mission, etc. This is open to all! Once completed, participants can be considered for volunteer roles through VC EU Aid Volunteers #EUAVI programmes. If you want to know more, click
here
or visit the News section of our website
www.vcvolunteers.ie
or email
info@viatoreschristi.com
Samaritans: Phone 116123
Pieta House: 24 hour Free call suicide helpline: 1800 247 247 or text HELP to 51444.
The Bishops want to know: What would be your preferred option for engagement in a conversation process about a national synod?
The Irish Catholic Bishops announced at their Winter 2020 meeting a new Synodal Pathway for the Catholic Church in Ireland, leading to the holding of a National Synodal Assembly within the next five years. Before embarking on an initial two year phase of consultation, bishops are inviting submissions between Easter (5 April) and Pentecost (23 May), 2021 to reflect on what methods/models would be best to adopt in these coming two years of conversations. For example: focus groups, parish hall meetings, questionnaires, deep-listening sessions; written submissions; family-focused gatherings; summary of findings of assemblies that have already taken place across dioceses; and/or conferences.
Individual parishioners can make their submissions, in not more than 300 words, via the Bishops Conference webpage:

https://www.catholicbishops.ie/synod/submissions/
Please also send a copy of your submission to the parish email

office@killeigh.com
Sports updates
to Club and Community notes available on
Bank Details (BIC & IBAN numbers) for those who want to bank on line are as follows:-
BIC: AIBKIE2D
IBAN: IE30AIBK 9322 5616 8410 38
BIC: AIBKIE2D
IBAN: IE96 AIBK 9322 5616 8411 11
Please include your ENVELOPE NUMBER or your NAME
S
ignage,
S
anitisation,
S
tewarding,
S
upport,
S
ocial Distancing,
S
eating &
S
ymptoms.
Please note encouragement of Bishop Denis to those who are Elderly, Vulnerable or Ill not to come to mass for now.
Useful Videos – kindly provided by the Archdiocese of Tuam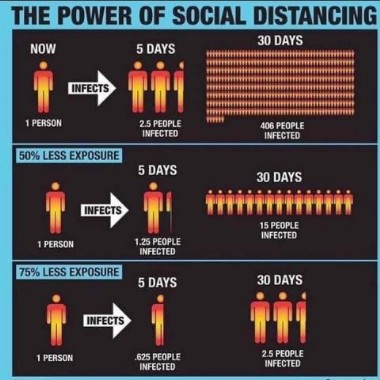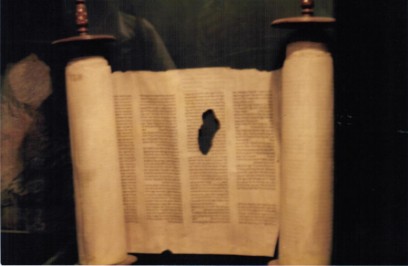 A Copy of the Scroll of the Prophet Isaiah, found in 1948 in a cave near the Dead Sea.
Carbon dated showing it was writen in 70 B.C.
Warning signs of a STROKE:
The following can help you recognise if someone is having a stroke and ACT FAST if you see any of them.
F – FACE: Ask the person to smile-does one side droop?
A – ARMS: Ask the person to raise both arms and keep them there.
S – SPEECH: Can the person repeat a sentence? Is their speech slurred?
T – TIME: If you see any of the above signs –

even just one

– call 999 for an ambulance
/////////////////////////////////////////////////
Suicidal Thoughts?
Share the Load!
….others can help you carry it.
Midlands Living Links
086-1600641
MABS – Money Advice
– Hibernian Hse, 076-107-2710 (free & confidential).
C.I.C. – Citizens Information Centre
Mon-Sat, 10.30am-12.30pm
057 9352204.
Samaritans:
1850 60 90 90
Pieta House 1800 247 247 or 0818 277 438
Samaritans new freephone number 116 123
visit www.3ts.ie/need-help/ for a full list of crisis helplines
We can help! Contact Offaly Domestic Violence Support Service (ODVSS)
on our
Confidential Information Line
057 9351886.
(Open Mon to Fri 10am to 12pm2pm to 4pm)
Have you got a number in your phone after the letters I.C.E.?
In Case of Emergency?

DO IT NOW!
Grow:

World Community Mental Health Movement in Ireland.
You alone can dot it,
but you can't do it alone.
If you are anxious, depressed,
or feeling suicidal,
GROW can support you.
Strictly Confidential.

www.grow.ie


Young Adult Group Monday 7.30pm,
Community Group Thurs 3.00pm
Community Health Centre 057 9351124.
Pontifical University – St Patrick's College, Maynooth.
Higher Diploma in Theological Studies One-year part-time evening course. Lectures are held on: Mon's & Wed's 6.30-9.30pm
Four Saturdays ( 2 Sat every semester) 10am – 4pm. Info etcContact 01-7084772 email:
admissions@spcm.ie
or
maynoothcollee.ie
Catholic convert Keith Nester answers the question, "What's so great about being Catholic?"