5th February 2023 - FIFTH SUNDAY IN ORDINARY TIME.
Nancy Gillen (Phelan), Monasterevin.
John Gorman, Rahan Rd, Tullamore.
KILLEIGH: SATURDAY 6.00pm
Mary Hinch, Lockclose. 1st Anniv.
RAHEEN: SATURDAY 7.30pm
Kathleen Brannock, Cloneygowan.
1st Anniv.
Liam Guinan, Ballydownan.
Tom & Elizabeth Trimble, Bawnmore.
BALLINAGAR: SUNDAY 10.30am
KILLEIGH: SUNDAY 11.30am
Martin & Sheila Elliott, Scrubb.
Deceased Leogue Family, Rathfeston.
Masses during the week:-
Killeigh 10.00am
Tues, Wed, & Thurs:
Wed: Paddy Kelly, Killeenmore.
Michael & Teresa McEvoy, Gorteen.
Geashill:
Tues 10.00am & Thursday 10.00am
MASSES for Next Week-end:
KILLEIGH: SATURDAY 6.00pm
Teresa Dunne, Ballymacrossan.
Richard & Mary Dunne, Ballymacrossan & their daughter Teresa.
RAHEEN: SATURDAY 7.30pm
Eileen Finlay, Ballydownan & Ard.
Months Mind.
Margaret & Tony Quinn & Baby Makayla, Ballydownan.
Andrew & Kathleen Carter, Ballykeane.
John & Poll Pender & their son P.J.,
Kathleen Mannion, Geashill.
BALLINAGAR: SUNDAY 10.30am
Mary & Paddy Dempsey, Knock.
KILLEIGH: SUNDAY 11.30am
Jim Plunkett, Quarrymount.
=======================
READERS next weekend:-
Killeigh Sat 6.00pm Doris Murray
Raheen Sat 7.30pm Quinn Family
Ballinagar Sun 10.30am Catherine Dolan Jnr
Killeigh Sun 11.30am Attracta Brady
Killeigh E. Ministers Sat nights:-
Feb 4th Sally Green & Teresa McInerney
Feb 11th Eilish Flanagan & Martina Egan
Raheen E. Ministers next week are:-
Feb 11th Mary Begnall & Eithne O'Byrne
Ballinagar E. Ministers next 4 weeks:-
Feb 12th Hugh Murphy
Parish Finance Council Meeting THIS Tuesday 7th February in the Parochial House Killeigh at 7pm
Parish Envelopes
with a copy of Parish Accounts 2022 are being distributed to every family in the Parish.
Please call the office
057 93 44161 or email office@killeigh.com if changes need to be made to names or addresses.
Again
Many
Thanks
to all who so generously support the Parish &
a big
Thank You
to those delivering the envelopes.
Vocations to the Priesthood:
Fr Ruairi O'Domhnaill in Newbridge.
Check out
https://www.kandle.ie/pastoral/sacraments/#collapse-holy-orders-vocations
or the National Vocations Office in Maynooth information from
https://vocations.ie/diocesan-priesthood/
Geashill Wednesday Club:
Wednesday's from 10am-12 in Geashill Old School. Why not join us. You are sure of a great welcome and a cup of tea. (€3).
Fabric Collage this week.
Free weekly drop-in IT Clinic every Wednesday and Friday morning from 9.30 am to 1 pm in Ballycommon Training Centre R35-V124. This is a FREE service to help people in the community and wider area avail of the use of our computers, internet and printing facilities. No booking is necessary.
Activities for Seniors – Every Tuesday morning, 11 am to 1 pm. Pick up and drop off service available. Call 057 93-53177 for full details.
Raheen church gate collection raised €197.50 for Midlands Simon Community last week. Many thanks.
Mountmellick Library
mountmellicklibrary@laoiscoco.ie
PARISH OFFICE TIMES:-
Wednesday, Thursday & Friday
10.30am - 12.45
St Brigid's Camino Walk, Monasterevin Parish have organised a Camino Walk in her honour. Starting at St. Brigid's Shrine at Mountrice on the Monasterevin – Rathangan Road (R414) @ 11 am on Monday 6th February (walk is approx. 6km). Car parking provided at Mountrice Cross.
Knock Shrine – The Knock Youth Leadership Programme.
This programme aims to train leaders to volunteer within their parish to journey with children and young people as they explore and deepen their faith.
On completion of the programme (2 weekends and 11 Saturdays over an 18 month period) participants will receive two certificates:
A certificate in Youth Ministries (accredited by Queens university Belfast).
A certificate in Practical Youth Work/Ministry Skills (accredited by The Open University, Northern Ireland).
There is no fee for participants, all food and accommodation is provided and there is small fund available to subsidise transport costs where applicable.
For more info contact
Knock Youth Ministry on youthministry@knockshrine.ie
or 094-937 5321.
Donation Button on
Killeigh Parish Website:
We are very grateful for your support at this time.
At the moment there are 5 options:-
Envelope weekly recurring. No. 4
Envelope monthly recurring. No. 5
Anniversary Mass / Mass Card / Mass Bouquet Offering. No. 6
Mountmellick Drama Festival 3rd-10th March in Community Arts Centre, Mountmellick. TICKETS ON SALE NOW. Online Booking at mountmellickdramafestival.ie
Tickets: Nightly €15 (€10) Season Ticket €70 (€45). Contact Jessie 087 7942994, Noreen 087 4121205
Clonaghadoo National School Parents Council
are holding a Table Quiz in Geashill on Friday 24
th
February.
€20 per table.
Hope to see you there.
DRAW 2022 RESULTS:-
1st Prize
Mary Purcell, 19 Hillview Killeigh
2nd Prize
Natalie Middleton Hawkswood Killeigh
3rd Prize
Tom Cleary, Derryweelan Geashill
4th Prize
Jane Direen, Fearnamona, Geashill
5th Prize
Maria and Denis Bannon, Killeenmore
6th Prize
Chrissie Scully, Main Street, Daingean
7th Prize
Paul & Jennifer Garry, Ballykeane Geashill
8th Prize
Michael Cushen, 3 Abbey Park Killeigh
9th Prize
Eamonn Dunne, Ballymacrossan, Geashill
10th Prize
Teresa Leogue, Killeenmore, Killeigh
Sponsor
Condron Dismantlers Ltd, Cappincur. (Liam Condron)
PLEASE SUPPORT OUR SPONSORS
Pat Joe & Frieda Kinnarney
Pat Hinch Tyre & Wheel Mart Ltd
Cash & Carry Furniture (Nuala Byrne)
Condron Concrete Works (Brendan O'Rourke)
Bramwell Steel Supplies (Kevin Hynes)
Condron Dismantlers Ltd (Liam Condron)
Andrew Dooley & Breda Dooley
Carroll Design & Surveying Ltd (Shane Carroll)
TORO SECURITY & ELECTRICAL LTD (Tony Purcell)
Slieve Bloom Veterinary Ltd (Donal Lynch)
Conor Murphy & Margaret Murphy
John Kelly T/A JK Timber Flooring
Clonmore Sawmills (Mick & Ann Dunne)
Changed Mass times.
Saturday evening Mass in Killeigh is at 6pm.
Saturday evening in Raheen at 7.30pm

Sunday morning in Ballinagar at 10.30am

Sunday morning in Killeigh at 11.30am
These times are provisional.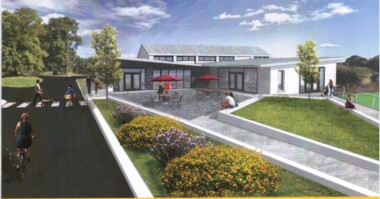 Interesting Catholic News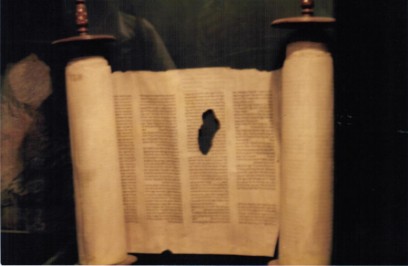 A Copy of the Scroll of the Prophet Isaiah, found in 1948 in a cave near the Dead Sea.
Carbon dated showing it was writen in 70 B.C.
A Pandemic Update from Bishop Denis.
The Bishops Conference will meet in in March to review the situation.
Meanwhile the continuation of the following protective measures is recommended
to ensure the safety and wellbeing of the vulnerable or anxious members of the congregation:
-The
wearing of face covering
s
inside the Church buildings;
-Good
sanitising and cleaning
arrangements;
-
Suspension of a handshake
as the Sign of Peace;
-
Holy Communion to be received in the hand
;
-
Holy water not yet restored to fonts
for communal use at the entrances to Church buildings.
Please continue to
wear masks, sanitise
and maintain
social distance
.
Every blessing, + Denis Nulty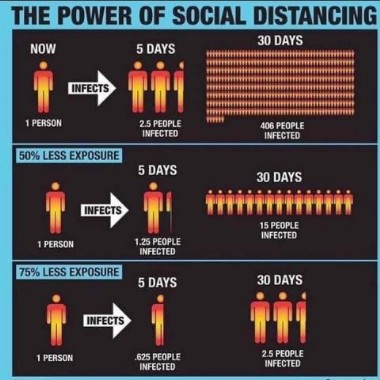 SLIDE SHOWS:-
Visit your ancestors grave in
A CATHOLIC UNDERSTANDING
of The Bible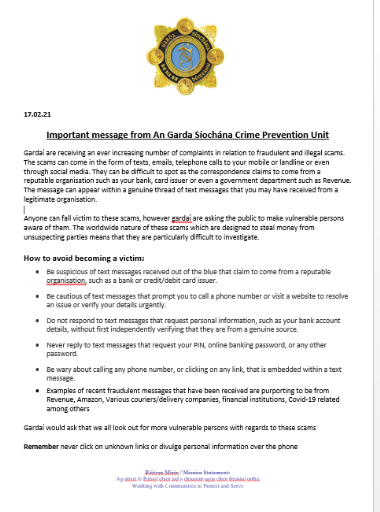 Warning signs of a STROKE:
The following can help you recognise if someone is having a stroke and ACT FAST if you see any of them.
F – FACE: Ask the person to smile-does one side droop?
A – ARMS: Ask the person to raise both arms and keep them there.
S – SPEECH: Can the person repeat a sentence? Is their speech slurred?
T – TIME: If you see any of the above signs –

even just one

– call 999 for an ambulance
/////////////////////////////////////////////////
Suicidal Thoughts?
Share the Load!
….others can help you carry it.
Midlands Living Links
086-1600641
MABS – Money Advice
– Hibernian Hse, 076-107-2710 (free & confidential).
C.I.C. – Citizens Information Centre
Mon-Sat, 10.30am-12.30pm
057 9352204.
Samaritans:
1850 60 90 90
Pieta House 1800 247 247 or 0818 277 438
Samaritans new freephone number 116 123
visit www.3ts.ie/need-help/ for a full list of crisis helplines
We can help! Contact Offaly Domestic Violence Support Service (ODVSS)
on our
Confidential Information Line
057 9351886.
(Open Mon to Fri 10am to 12pm2pm to 4pm)
Have you got a number in your phone after the letters I.C.E.?
In Case of Emergency?

DO IT NOW!
Grow:

World Community Mental Health Movement in Ireland.
You alone can dot it,
but you can't do it alone.
If you are anxious, depressed,
or feeling suicidal,
GROW can support you.
Strictly Confidential.

www.grow.ie


Young Adult Group Monday 7.30pm,
Community Group Thurs 3.00pm
Community Health Centre 057 9351124.
Pontifical University – St Patrick's College, Maynooth.
Higher Diploma in Theological Studies One-year part-time evening course. Lectures are held on: Mon's & Wed's 6.30-9.30pm
Four Saturdays ( 2 Sat every semester) 10am – 4pm. Info etcContact 01-7084772 email:
admissions@spcm.ie
or
maynoothcollee.ie