Parish Newsletter 24TH / 25TH September 2022 - 26TH SUNDAY IN ORDINARY TIME
We Pray for:
Agatha Cooney (O'Bryne), Birr & Ballymacrossan.
Cora McCann, Mountpleasant, Blueball.
Philomena Reidy (O'Connell), Rhode.
KILLEIGH: SATURDAY 6.00 pm
Margaret (Peggy) Coonan, Hillview Cresent.
Months Mind.
Also her husband Michael (Mick) Coonan.
Joe & Jim Dunne, Hawkswood &
Sadie & Tommy Feery, Lockclose.
Cyril Dunne, Killurin, His brother Declan & his parents Margaret & Cyril Dunne.
RAHEEN: SATURDAY 7.30 pm
Richard Dunne, Ballymooney & Ard.
Months Mind.
Sonny Trimble, Cloneygowan.
Marie & Seamus Fitzmaurice, Cloneygowan
BALLINAGAR: SUNDAY 10.30 am
KILLEIGH: SUNDAY 11.30am
Joseph Cleary, Ballyaville, Geashill.
Masses during the Week:
Killeigh:
Tuesday 10am:
Wed 10am: James, Maura & Marie Mahon, Killeigh & Deceased Family Members.
Thurs & Friday 10.00am
Geashill Oratory re-opened
Friday 10.00am
MASSES for Next Week-end:
KILLEIGH: SATURDAY 6.00 pm
Malachy Byrne, Portlaoise & Killeigh.
William & Margaret Naughton, Killeenmore
RAHEEN: SATURDAY 7.30 pm
Tom & Margaret Robbins, Alderboro,
BALLINAGAR: SUNDAY 10.30 am
John & Catherine Brophy, Ballinagar.
Séan O'Meara, Ballinagar.
William McEvoy & his sons, Gracefield.
James & Mary Kate Scully, Toberlaheen.
KILLEIGH: SUNDAY 11.30am
Judy Purcell, Ballinvalley. Months Mind.
==========================
READERS for next week-end:-
Killeigh 6.00pm Byrne Family
Raheen 7.30pm Betty Crombie
Ballinagar 10.30am Margaret Murphy
Killeigh 11.30am Family
Raheen E. Ministers next week are:-
Mary Dempsey & Emer Coleman
Ballinagar E. Ministers next 4 weeks:-
Sept 25th Hugh Murphy
Oct 2nd Catherine Guinan
Oct 9th Johnnie Dunne
Oct 16th John McDonald
PARISH OFFICE TIMES:-
Tues, Wed, Thurs, Fri
10.30am - 12.45
TAX RELIEF
1 MORE FORM HAS BEEN SUBMITTED FOR A REFUND OF €292.03 THIS WEEK. THANK YOU
On Your 2021 Donations.
A big thank you to all those returning their CHY4 Tax forms.
I have submitted 102 Forms so far
Hoping for a refund of €24,502.45
Thanks again to everyone.
The Season of Creation
"for we know that things can change!" (Laudato Si', 13). Find out more about the season

at

www.kandle.ie

or

www.catholicbishops.ie
God our Creator, maker and shaper of all that is, seen and unseen;
You are present in the breadth and depth of the whole of creation, and in the processes that make life possible.
Yet, we are distracted by the gods of the marketplace. Our lives have become fractured and fragmented.
In our brokenness we disturb the Earth's capacity to hold us. Call us back from the brink.
Help us to choose love and not fear, to change ourselves and not the planet, to act justly for the sake of the vulnerable, and to make a difference today for the life tomorrow.
We make this our prayer in your name, Father, Son and Holy Spirit, Amen.
Special Kildare Pilgrimage to Fatima at Easter 2023 ex Dublin Departing Wednesday Holy Week
5th April. 5 nights full Easter ceremony and tour of Lisbon. Optional tour to seaside on Easter Saturday.
Contact James Treacy 061 921 470
Geashill Wednesday Club:
We are back from our summer break and meet on Wednesday's 10am-12. Why not join us. You are sure of a great welcome and a cup of tea. (€3).
Killeigh Community Centre Development Association
We will be conducting a public meeting In The Bridge House Hotel on Tuesday the 4th October at 8pm with the view of discussing the
Win a House in Meath campaign in the run up to the draw date in December. We would encourage all members of the public to attend, as a successful campaign will ensure that our Community Centre is delivered to the village sooner rather than later.
Two parish teams are in the County Football Finals this weekend in BNM O'Connor Park.
Ballinagar played Kilcormac/ Killoughey in the JFC Final today Sat @1 pm
Raheen v Ballycommon in Sunday's IFC

Final@2.15

pm
Declan Gorman a native of Killeigh will manage Rhode v Tullamore in the Senior Final @4 pm.
Killeigh Parish Community Games U12 Soccer & Management playing in the All Ireland Finals in Limerick today (Sat). Best of luck to all.
Offaly Personal Assistance Services:
Now recruiting for Personal Assistants in the Ballinagar Area.
The role is supporting people who live with disabilities assisting them with light housework, attending appointments, and engaging in their hobbies.
This is a developmental role supported with training.
It is a Community Employment (C.E. Scheme) opportunity for those over 21 in receipt of a social welfare payment for 12+ months.
Contact Roisin
085 805 0539
or
roisin@ocil.ie
for more information
.
Marriage Encounter Ireland are hosting a Marriage Enrichment Weekend from Friday 4th – Sunday 6th November at the International Hotel, Cork Airport. For more information and to book please visit

www.marriageencounter.ie
Geashill Ballinagar Seniors Group.
PLEASE NOTE: Chiropodist scheduled for Sept 29th is cancelled.
Donation Button on
Killeigh Parish Website:
We are very grateful for your support at this time.
At the moment there are 5 options:-
Envelope weekly recurring. No. 4
Envelope monthly recurring. No. 5
Anniversary Mass / Mass Card / Mass Bouquet Offering. No. 6
Changed Mass times.
Saturday evening Mass in Killeigh is at 6pm.
Saturday evening in Raheen at 7.30pm

Sunday morning in Ballinagar at 10.30am

Sunday morning in Killeigh at 11.30am
These times are provisional.
Interesting Catholic News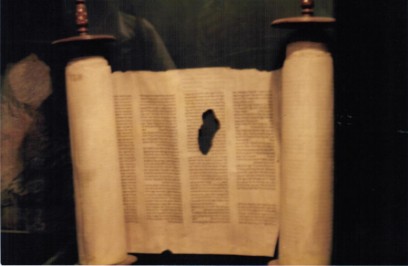 A Copy of the Scroll of the Prophet Isaiah, found in 1948 in a cave near the Dead Sea.
Carbon dated showing it was writen in 70 B.C.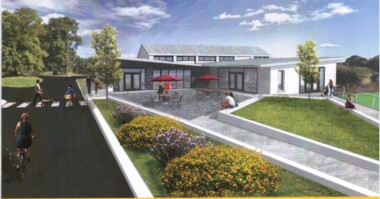 A Pandemic Update from Bishop Denis.
The Bishops Conference will meet in in March to review the situation.
Meanwhile the continuation of the following protective measures is recommended
to ensure the safety and wellbeing of the vulnerable or anxious members of the congregation:
-The
wearing of face covering
s
inside the Church buildings;
-Good
sanitising and cleaning
arrangements;
-
Suspension of a handshake
as the Sign of Peace;
-
Holy Communion to be received in the hand
;
-
Holy water not yet restored to fonts
for communal use at the entrances to Church buildings.
Please continue to
wear masks, sanitise
and maintain
social distance
.
Every blessing, + Denis Nulty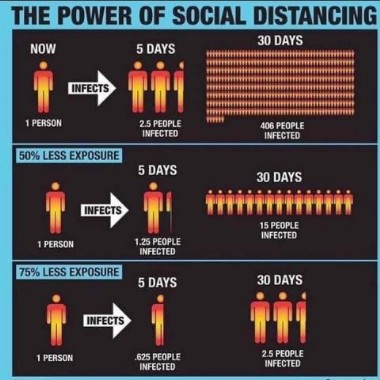 S
ignage,
S
anitisation,
S
tewarding,
S
upport,
S
ocial Distancing,
S
eating &
S
ymptoms.
Please note encouragement of Bishop Denis to those who are Elderly, Vulnerable or Ill not to come to mass for now.
SLIDE SHOWS:-
Visit your ancestors grave in
A CATHOLIC UNDERSTANDING
of The Bible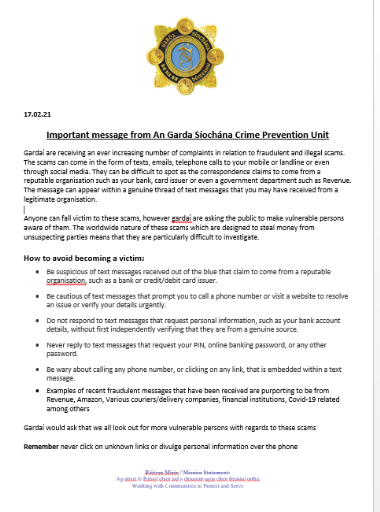 Warning signs of a STROKE:
The following can help you recognise if someone is having a stroke and ACT FAST if you see any of them.
F – FACE: Ask the person to smile-does one side droop?
A – ARMS: Ask the person to raise both arms and keep them there.
S – SPEECH: Can the person repeat a sentence? Is their speech slurred?
T – TIME: If you see any of the above signs –

even just one

– call 999 for an ambulance
/////////////////////////////////////////////////
Suicidal Thoughts?
Share the Load!
….others can help you carry it.
Midlands Living Links
086-1600641
MABS – Money Advice
– Hibernian Hse, 076-107-2710 (free & confidential).
C.I.C. – Citizens Information Centre
Mon-Sat, 10.30am-12.30pm
057 9352204.
Samaritans:
1850 60 90 90
Pieta House 1800 247 247 or 0818 277 438
Samaritans new freephone number 116 123
visit www.3ts.ie/need-help/ for a full list of crisis helplines
We can help! Contact Offaly Domestic Violence Support Service (ODVSS)
on our
Confidential Information Line
057 9351886.
(Open Mon to Fri 10am to 12pm2pm to 4pm)
Have you got a number in your phone after the letters I.C.E.?
In Case of Emergency?

DO IT NOW!
Grow:

World Community Mental Health Movement in Ireland.
You alone can dot it,
but you can't do it alone.
If you are anxious, depressed,
or feeling suicidal,
GROW can support you.
Strictly Confidential.

www.grow.ie


Young Adult Group Monday 7.30pm,
Community Group Thurs 3.00pm
Community Health Centre 057 9351124.
Pontifical University – St Patrick's College, Maynooth.
Higher Diploma in Theological Studies One-year part-time evening course. Lectures are held on: Mon's & Wed's 6.30-9.30pm
Four Saturdays ( 2 Sat every semester) 10am – 4pm. Info etcContact 01-7084772 email:
admissions@spcm.ie
or
maynoothcollee.ie